Prescot Masonic Hall was the venue for the initiation of Neil Anthony Roberts into Prescot Lodge No 5470. The lodge was opened by the WM Leo Kap in due form and on completion of the domestic business a ballot was taken for the candidate for inhiation, which proved favourable.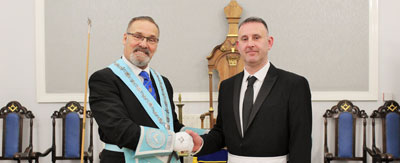 .The WM invited George Flinn to take the chair of King Solomon for the initiation of Neil Roberts. On entering the lodge, acting junior deacon Vic Sheedy guided Neil around the lodge, presenting him to the WM George Flinn' who proceeded to initiation Neil in what was an exemplary manner.
A practical and moral explanation of the working tools of an entered apprentice was given by George Moffatt, the JW of the lodge. The charge after Initiation was given by Leo Kap in his usual word-perfect manner which everyone has become accustomed to.
At the festive board, Neil was presented with his welcome pack by Paul Brunskill who brought the congratulations of John Murphy, Chairman of the Mersey Valley Group. All in all, it was a great evening and one Neil will look back on with pride, having been initiated into Freemasonry in fine style.