The members of Lodge of Chivalry No 3974 and visitors saw Martin Stewart declared master for the third year running. The COVID-19 pandemic has seen lodges throughout the Province declare their master for the third year.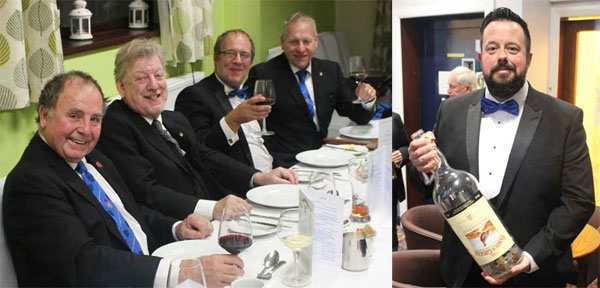 In Martin's case he had a great start to his year as WM in 2019. He presided over the lodge's centenary and visited almost all the lodge installations in the Ormskirk and Bootle Group before the COVID-19 lockdown hit in March 2020. This was no mean feat as Martin lives in Tunstall, Stoke on Trent.
This year all the lodge's officers Martin appointed and invested were light blue with the exception of the junior warden and the tyler.
Martin is 41 years old and is married to Karyn, they have eight sons between them, one son, Zac, has already joined the lodge and is waiting for his third degree in February 2022. Martin initiated Zac by dispensation, as he is was not 21 years old when he was made a Freemason.
Martin has a busy year ahead as he plans to initiate, pass and raise a new member and raise Zac to the degree of a master Mason in his year in office. Martin also plans to attend all the installations in the Ormskirk and Bootle Group during his year in office.
He started his own business, Ultimate UPVC Repairs, a few years ago, the business is doing well and his wife Karyn runs the office which will relocate to his first showroom when he opens later this year.
Martin plans to reinvigorate the social activity in the lodge and he has already held one social event and has a Ladies to Dine in November and he hopes that his Ladies Night, which was originally booked for February 2020, but was cancelled due to the lockdown will go ahead in February 2022 at the Royal Clifton Hotel in Southport. Martin certainly has a busy year ahead!
The principal guest at the meeting, Ian Gee praised the light blue members of the lodge: Adam Woods and Wayne McGuffie who presented the working tools, saying they did so in fine style. He also congratulated all those who took part in the ceremony.
Following the meeting the brethren retired to the dining room upstairs, where they enjoyed a wonderful four course meal and wine which was included in the cost of the meal. A great night was had by all.