During the past 12 months, the response by Freemasons across the Province of West Lancashire in terms of support ranging from COVID-19 task forces, to individual charitable efforts in support of local and national charities, have been well publicised. But every now and again there are those who truly stand out for their efforts and sometimes these efforts are rewarded on a greater scale.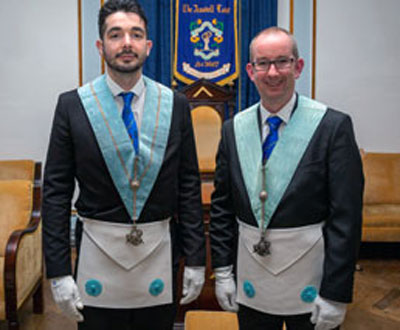 Two such examples are Jonathon Boriss of Quadrant Lodge No 8044 and Jonathon Hardman of Ansdell Lodge No 3607. They have been recognised by and rewarded with a commendation from the Grand Master, His Royal Highness the Duke of Kent.
In a covering letter the Grand Master wrote: "I would like to take this opportunity to thank you for espousing, demonstrating and living the values of Freemasonry, and I send you my warmest fraternal greetings."
This honour follows on from their recognition as Fylde Coast COVID-19 heroes by the Mayor of Fylde Angela Jacques, who in July 2020 presented the two Jon's with a commemorative coin, certificate and letter of thanks on behalf of all of those that they have supported across the Fylde Coast.
Now, we have discovered that these exceptionally modest and unassuming Masons have continued to drive forward initiatives which have made a huge difference to the local community. These initiatives include such things as the laptop appeal, servicing equipment for four schools in the local area and attending to people in the community who are continuing to shelter during the pandemic.
Lockdown 2020 saw them initially taking 'doorstep photos' of families in the local community. All for free but in exchange for a donation to the local foodbanks. This proved very popular, and they collected enough food for almost 250 family meals. Their donations to Fylde Foodbank were over 102kg, (over 16 stone in old weights).
They also worked with local primary schools producing virtual leavers photos for those children leaving primary school that year. They photographed each child individually, then stitched the images together to create something special and unique for each child. This project again proved ridiculously popular and saw them in dozens of schools across the Fylde.
The two Jon's rapidly becoming known as 'Jon's squared' also started orchestrating and hosting online events for brethren around West Lancashire. They pushed hard to create as many interesting events as they could, (and called in as many favours as they could, to get the best raffle prizes), which involved quiz nights, raffles and other money raising ideas, all in aid of the MCF 2021 Festival and Blue Skies Hospital. The generosity was amazing, with over £1,500 being raised initially. The online events continued though, with the grand total to date exceeding £5,000
The boys were also active members of the South Fylde Group COVID-19 Task Force, running errands and generally helping brethren across the South Fylde with anything they needed. This proved to be an invaluable support channel to some of our brethren and their families. It was reinstated at the start of the most recent lockdown, only recently winding up as vaccinations were distributed to those who needed them most.

Jonathon Boriss, talking to the publicity team said: "As we reflect on just over a year since this all began, we are humbled by the commendation we have received and are both unified in the honour and pride we share in being Freemasons of the Fylde and of the Province of West Lancashire.
As we move along the path out of lockdown and to some new form of normality we have turned our attention to the future and to what we can do next. We look forward to sharing these plans in the near future."
These two young Masons do a lot, they do it well and never seek thanks or praise; they really are the best among us and we are sure we have not heard the last of them as these men themselves are certainly the 'gold.'