The 2022 installation convocation of Morecambe Chapter No 1561 was attended by Past Assistant Grand Sojourner John Robson, representing the Grand Superintendent Tony Harrison.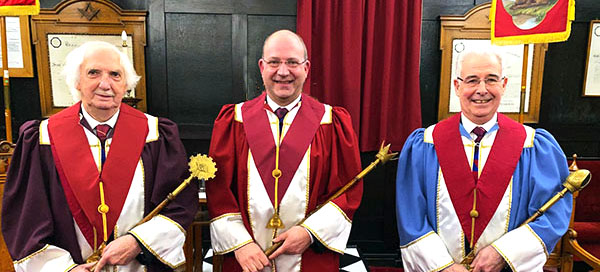 For this installation, John was accompanied by Past Provincial Deputy Grand Registrar George Fox, Provincial Grand Steward Chris Brown, Steve Plevey and Lancaster Group Chairman Neil McGill.
Morecambe Chapter was opened by first principal Stuart Bateson, second principal Geoff Wilman and acting third principal John Bates. Director of Ceremonies Barry Robinson proclaimed Stuart Bateson as first principal and Geoffrey Wilman as second principal before presenting Malcolm Brown to be installed as third principal.
The third principal's robe address was given by Matthew Catlow, after which the chapter officers for the ensuing year were appointed and invested with their respective collars.
John Robson presented grand chapter certificates to Matthew Catlow, Lee Fisher and Colin Preston, after which the chapter was closed.