Moving the meeting of Baldwin Lodge No 1398 to celebrate Graham Slater's 50 years as a Freemason from Hall Street in Dalton to the Fairfield in Barrow proved a wise choice as 67 brethren joined Assistant Provincial Grand Master Peter Schofield to share the wonderful occasion. Accompanying Peter were grand lodge officers and acting Provincial grand officers who made the evening 'one to remember' for the celebrant.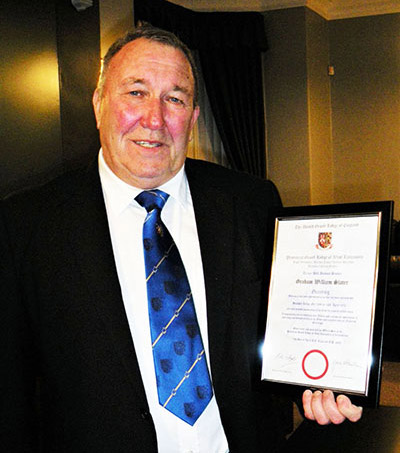 The official business of the lodge being completed in a sincere manner, Peter, along with the grand and acting Provincial grand officers entered with Gary Rogerson, Alan Pattinson and Chris Gray; Chairman, Vice Chairman and Secretary of the Furness and South Lakeland Group respectively. All were under the careful and commanding presence of Assistant to the Provincial Grand Director of Ceremonies Brian Woodburn.
To celebrate 50 years in any organisation Peter explained, was a fantastic achievement and one which Graham should be extremely proud of. To maintain the strict morality and standards necessary In Freemasonry is astounding. Graham had done that, not only in his free time as a Mason but also in his working life.
Bell-bottomed trousers and mini-skirts were the 'in things' to wear in the 1970s; the average cost of a house was £4,700 whilst the average annual wage was £1,200 in 1972 when Graham joined Freemasonry. A wry smile and a minor laugh or two was heard as Graham was reminded the wage of a farmer was double the average! "It had to be, with the price of a new tractor being £1,340 and a leg of lamb at £1.30 was still expensive even in the early 70s", said Peter.
Born in October 1948, Graham William Slater was an only child and Peter had been told that he was treated like a prince and could do no wrong! Attending Broughton Infants and Junior Schools, Graham later finished his formal education at Dowdales School in Dalton. Whilst there he played rugby and continued as an adult playing for Askam Rugby Club.
The 150-acre farm has been in the family for six generations, having originally belonged to Lord Cavendish. Not only has Graham served Freemasonry for 50 years, he also worked on the farm for the same length of time. At the aged 65, he then followed the family tradition and handed the running of the farm over to his son Philip. The business still continues to go from strength to strength, which shows a huge level of dedication and commitment to the farm since 1851 by all the generations of Slaters. No wonder he is well respected in Freemasonry because the level of commitment necessary to succeed in the farming world is a 24 hours a day job. That same commitment and drive has spilled over into his involvement within Freemasonry. Graham has helped local schools, churches and the Duddon Inshore Lifeboat by funding various events when called upon.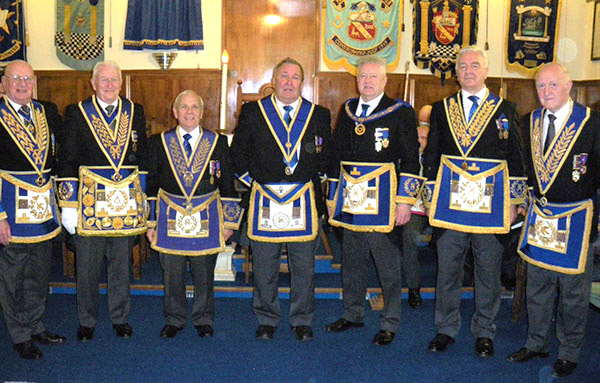 As a young man he still had time for the local dances where he met Jean. They have three children, Elizabeth, a special education teacher, Sarah who works for Playdale and Philip is now in charge of the farm. Peter thanked Jean for all the support she has shown Graham over the 50 years and he had heard that she can 'still be found barking out the orders' as Graham still continues to create a nuisance of himself around the farm!
Following his father, who was also a member of Baldwin Lodge, Graham took his first steps in Freemasonry on 12 April 1972, being passed and raised in the following June and September. The amounts payable on joining at that time were £35 and £5 a year for his subscription to the lodge! With six people being called 'Slater' in the lodge, it was remarked that it must have sounded like a game of happy families! Nick-names were the order of the day, Graham being 'Farmer Giles'. In 1985 Graham became the master of the lodge, having progressed steadily through the various offices.
In the late 90s, to help with issues of progression in the lodge, Graham began again to go through the three main chairs, which showed his dedication and enthusiasm; again leading the younger brethren by example. Peter did suggest that after one late night celebrating with his fellow masters in office that only Graham could have thought of hiding a tractor in the bushes on his land so that he would not have to walk up the long drive to the farm house!
Filling in for any officer who could not attend a lodge meeting did not prove a problem for Graham, who helped and guided the younger brethren, even before the mentor programme was established. Joining the Royal Arch in 1973 he was exalted into Baldwin Chapter No 1398. Graham progressed to the position of first principal in 1989. In 1996 he was honoured with the very high rank of Past Provincial Grand Scribe Nehemiah, which was thoroughly deserved for his dedication, commitment and the professional manner in which he has carried out his Masonic responsibilities.
Peter concluded by conveying hearty congratulations from the Provincial Grand Master Tony Harrison, who had already spoken to Graham during the day. Peter's last duty was to ask Gary Rogerson to read out the wording on the certificate, at the end of which a spontaneous round of applause erupted and ended a fantastic celebration before all eventually retired to enjoy a superb meal downstairs.