The Gladstone Group of lodges and chapters have responded magnificently to the Province of West Lancashire Food Bank Appeal initiative, in support of Micah Liverpool.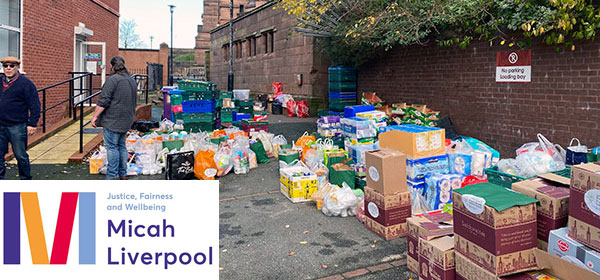 Micah Liverpool is a social justice charity that has been set up by Liverpool Cathedral, Liverpool Metropolitan Cathedral of Christ the King and St Bride's Church to relieve Liverpool residents from social injustice and poverty. One of the many ways that the charity helps to achieve their aims is by providing food and other household items.
Drop off points for foodbank donations were arranged in Garston Masonic Hall, South Liverpool. Over a fortnightly period, a steady stream of cars, vans and volunteers on-foot soon arrived bringing donated food parcels and shopping on behalf of the various lodges and chapters. The many bags soon overwhelmed the tables that had been set-up to receive them. A number of lodges and chapters have, in addition to donating food stuffs, made cash donations which have been very gratefully received.
On 7 December a team of volunteers took the donated goods to Micah Liverpool in the grounds of Liverpool Anglican Cathedral, where they were presented to the Executive Director of Micah Paul O'Brien. Paul expressed his thanks to all who had donated, particularly the foodbank items as he explained would also save them considerable time and effort in purchasing items which is a task undertaken by the charity every week.  Paul explained that a group of Micah volunteers make up 300 plus food parcels every week to be distributed throughout the Liverpool region.
Gladstone Group Chairman John James also presented a cheque on behalf of the Gladstone Group of Lodges and Chapters for £3,300. Since the presentation this amount has now increased to £3,950, with more donations to arrive, coupled with goods donated to a value of £2,400 – an amazing achievement and a splendid way to support the West Lancashire Food Bank appeal.