The brethren of Mersey Valley Lodge of Installed Masters No 9057 met together to hold their 41st installation meeting at Warrington Masonic Hall, where George Heyes was placed in the chair of King Solomon by his installing master Les Williams, thus ending the Widnes tenure of this magnificent lodge.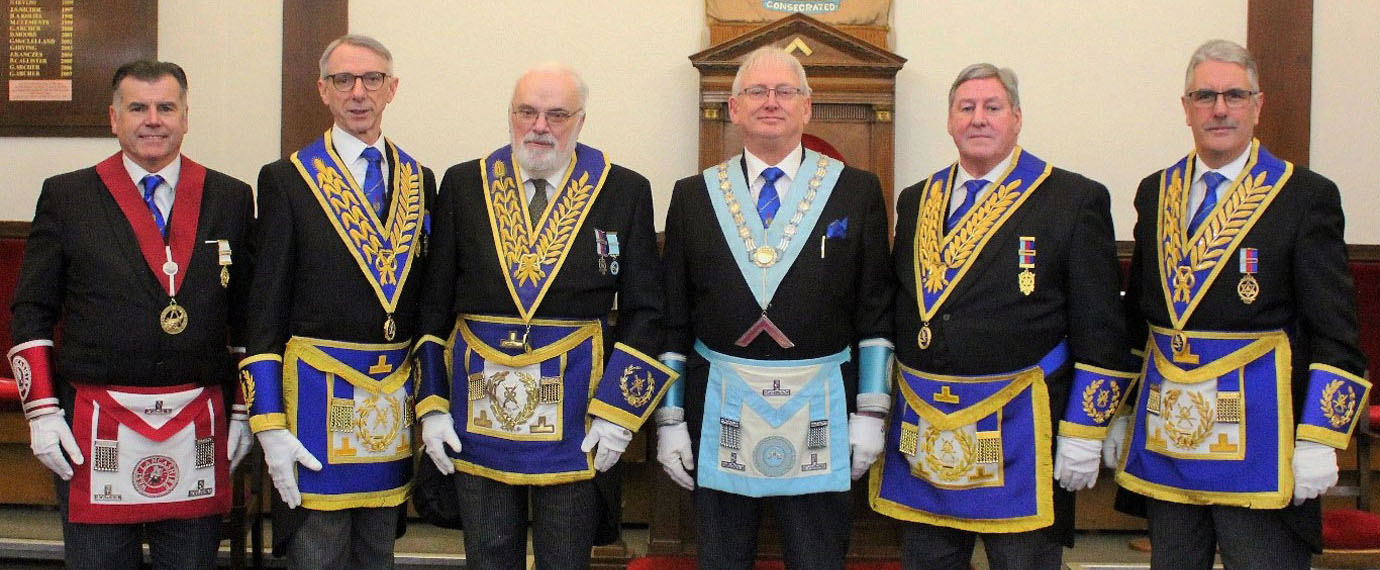 The meeting was hosted by the Warrington Group Chairman Andrew Barton who along with the installing master and his successor greeted principal guest Neil McGill, the Chairman of Lancaster and District Group.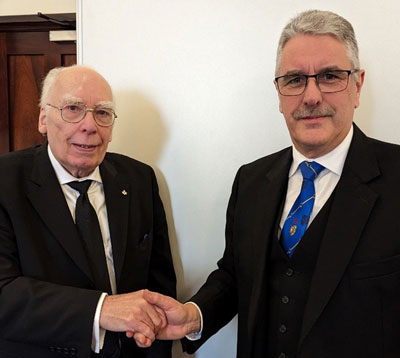 An attentive lodge of past masters, marvelled at the performance of the installing master Les Williams, as he carried out the full ceremony in its entirety with aplomb. The address to the master being delivered by the Warrington Group Chairman Andrew Barton,, the address to the wardens by the Warrington Group Vice Chairman John Tyrer and the address to the brethren of the lodge, which was immaculately delivered by Neil McGill, the personal representative of the Provincial Grand Master Mark Matthews.
The lodge presented nine cheques, five to the constituent Masonic halls in its catchment area, Leigh, Widnes, St Helens, Prescot and Warrington, and a  further four to the four hospices that serve the area, being Willow Brook Hospice serving the St Helens area, Wigan and Leigh Hospice that serves the Leigh area, Halton Haven Hospice that serves the Widnes area and St Rocco's Hospice that serves the Warrington area, a total of £2,050 was donated on the night.
During the festive board, the representative, Neil McGill, congratulated all the partaking officers for a superb ceremony. The Warrington Group Chairman Andrew Barton presented Nick Woods with a 50 years lapel pin to mark his 50 years in the Craft.
A superb meal of broccoli and stilton soup, leg of lamb and apple crumble was served up at the festive board by the fantastic staff of Warrington Masonic Hall, who did everything in their power to ensure that 'downstairs' was every bit as good as 'upstairs'. All that remains to be said is to bring on next year at St Helens!
The lodge's next meeting will be held on Friday 21 April at Widnes Masonic Hall, where the celebrated author Robert Lomas is to deliver one of his Masonic lectures and it promises to be most interesting and informative.
Article and photographs by: Neil Thomas and Peter Whalley.