On a very cold, icy morning, Mersey Valley Group Chairman John Murphy accompanied by group charity steward Gary Devlin visited the registered charity based at St Gregory's Youth and Community Initiative (SGY&CI) in Netherley.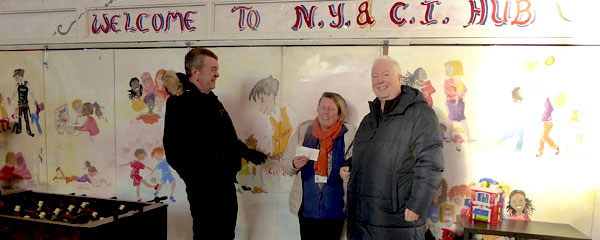 Despite the cold weather there were many people already queuing to partake of the goods on offer. The numbers on this cold morning were much higher than we had seen on previous visits.
John and Gary were met by foodbank manager Sharon Williams, who as always was busy ensuring that everything was running smoothly along with her faithful band of volunteers. Sharon informed John and Gary that the need this year was greater than ever and on each occasion that the foodbank was open up to 150 people attended. Like many foodbanks at this time of the year, the need for money was paramount so that they can buy what is really needed for those who needed to use their services.
Sharon told the group representatives: "We look upon ourselves as being the blood flow of the community, because whenever there is an issue, or a problem, or a need, people know they can attend the centre and they will be supported instantly".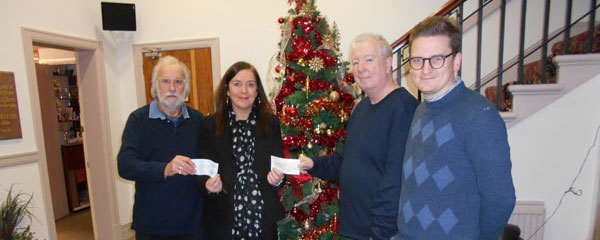 Sharon went on to say "If a person comes in and says they have got no food in, we will empty our fridge and hand it over. We are here to meet people's needs and that's why we set up the charity". Unfortunately, Netherley has an unemployment rate much higher than that of Liverpool and nearly twice that of the UK.
Sharon did not know how much the group was handing to her and she was ecstatic when she realised it was for £600 saying that the generosity from the Freemasons, who had contributed to the West Lancashire Freemasons' Charity, will make life a little easier for so many people in the region and will enable the charity to buy some of the things that do not get donated. So, a very big heartfelt thank-you said Sharon.
John also visited Garston Masonic Hall where he was met by the Hall Chairman Mal Yates and Labour Councillors Lynnie Williams and Richard McLean. Lynnie and Richard were presented with cheques; one from Garston Masonic Hall with donations from lodges and chapters for £700 and one from John from the Mersey Valley Group for £600. These cheques are for the Garston Adventure Playground, a local organisation who supports families in these difficult times with food hampers and other important activities.
Story and pictures by Colin Roberts.