Preston Guild Lodge No 4408 were honoured to be visited at Preston Masonic Hall by the Mayor of Preston, Councillor Javed Iqbal, who presented the lodge with their Mayor of Preston's Coronavirus Pandemic City Hero Award Certificate. This award is to recognise individuals and groups who have supported the wider community in Preston during the Pandemic.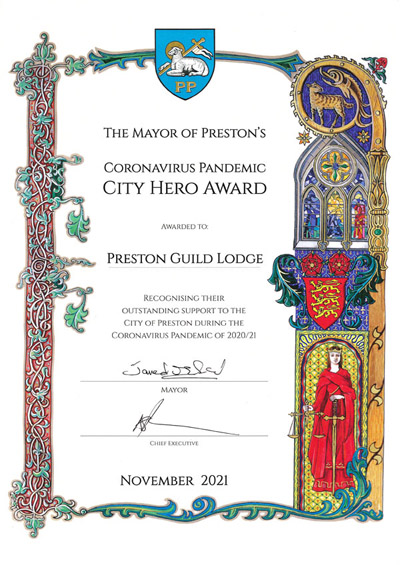 The members of Preston Guild Lodge are proud of their history of supporting the local community. They recognised that the impact of COVID-19 had been detrimental to many local charities and their fundraising had been severely disrupted.
Over the last year the lodge has shared £5,500 worth of financial donations and grocery contributions to foodbanks with 14 local organisations in Preston. These have included, Young Carers, homeless charities and health support charities based in Preston. Master of the lodge, Ian Greenwood, said: "By focussing on our local Preston charities we hope to have helped them through some of the impact of COVID-19 and the effect of lockdowns."
In addition, members of the lodge had served as COVID Responder Volunteers. This ensured support for home bound vulnerable people as well as working with the vaccine rollout.
The mayor's visit coincided with the officers of the lodge practicing to welcome a new member in January 2022, so in honour of the mayor it was turned into a dress rehearsal. This prompted the interest of Councillor Iqbal in the lodge room in general. He was interested in the links to Preston Guild.
The lodge was founded in 1922 and named to commemorate the Guild Merchant of that year. Next year is the centenary of Preston Guild Lodge. Councillor Iqbal noted that the old Town and Guild Hall was at the heart of our banner. He was surprised to learn that the foundation stone for that great building was ceremoniously laid in 1862 by over 300 Freemasons under the direction of the then Mayor, Robert Townley Parker, himself a Freemason.
Councillor Iqbal was not aware of that Masonic connection. He was then impressed to find out that five of his predecessors as Mayor of Preston were members of Preston Guild Lodge. The importance of the Hall Stone Jewel in respect of the fallen of the Great War was also explained to him.
Before leaving, the mayor enjoyed a tour of Preston Masonic Hall led by the lodge director ceremonies, David Parker, and accompanied by the master Ian Greenwood. Group Chairman, John Rimmer, who just happened to be in the building, also took part in the tour. Councillor Iqbal was impressed by the size and facilities of the hall. He had recently attended a function held in the hall by the Royal Navy. By chance he bumped into our resident chef, Alistair, and thanked him for an excellent meal on that occasion.
The practice meeting was something of an anti-climax after such a wonderful visit by the mayor.