Matt Mason was installed as WM of Longridge Lodge No 8077 in the presence of Deputy Provincial Grand Master Philip Gunning. Philip was accompanied by Past Provincial Grand Master Tony Harrison, Past Provincial Deputy Grand Master Howard Jones; Assistant Provincial Grand Master Peter Schofield; grand officers John Robson and Neil McGill, Chairman of Lancaster Group.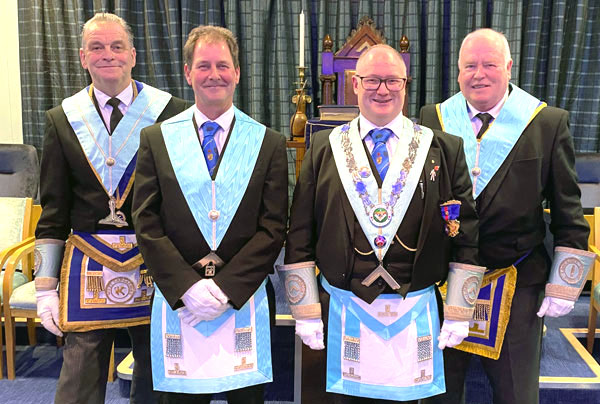 Vice Chairman of Lancaster Group Scott Devine was also in attendance with acting Provincial grand officers; Provincial Grand Almoner Paul Broadley, Provincial Deputy Grand Director of Ceremonies Ryan Modlin, Dave Shaw and Fred Dickinson Provincial Grand Junior Deacons, Tim Gill Provincial Grand Standard Bearer and Mark Little Provincial Grand Steward.
The lodge was opened by the WM Tony Ollerton who conducted the installation ceremony assisted by director of ceremonies Michael Monks, who presented master elect Matt for installation. The installing officers were; senior warden Howard Jones, junior warden James Gibson and inner guard Martin Slater.
Presentation of the third degree working tools was given by master Mason Alan Dumelod, the second degree working tools presented by fellow craft Adam Wright and the first degree tools presented by entered apprentice Mark Wadsley. The WM appointed Neil Hartley as senior warden and Lance Gorman as junior warden.
The address to the master was given by Michael Monks, the address to the wardens was given by Paul Street and the address to the brethren of Longridge Lodge was given by Howard Jones. Provincial Junior Grand Deacon Dave Shaw gave the address to the deacons.
Philip Gunning was pleased to announce that the lodge had made donations to Masonic and non-Masonic charities to the value of £7,860 for which he thanked the brethren of the lodge for their generosity. He was full of praise for the junior brethren who presented the working tools, particularly Mark Wadsley who had only been a member of the lodge for two months!
Playing the organ for the evening was Fred Parker and the Master's Song was performed by James Gibson. A total of 43 brethren attended the festive board. The toast to the WM was given by Tony Ollerton.
Matt Mason, originally hails from Samlesbury which is separated from Longridge by the river Ribble. He joined Longridge Lodge on 21 September 2014. Matt is a chef and who has worked for many of the finest eateries in east and west Lancashire, notably learning his trade under Michelin star celebrity chef, Nigel Haworth.
His hobbies include reading non-fiction and horror books, walking and seeing friends when he gets the chance. Freemasonry allows him to get out of the house, meet new people and raise money for charity. Within the lodge, he is well known for bringing parched peas on an Old English night.
Prior to becoming WM, Matt served as charity steward for several years. Matt is looking forward to celebrating a significant milestone in July when he turns 40!