Matt Catlow was installed as WM of Poulton le Sands Lodge No 1051 in the presence of Past Assistant Grand Director of Ceremonies Philip Preston as the representative of the Provincial Grand Master Mark Matthews.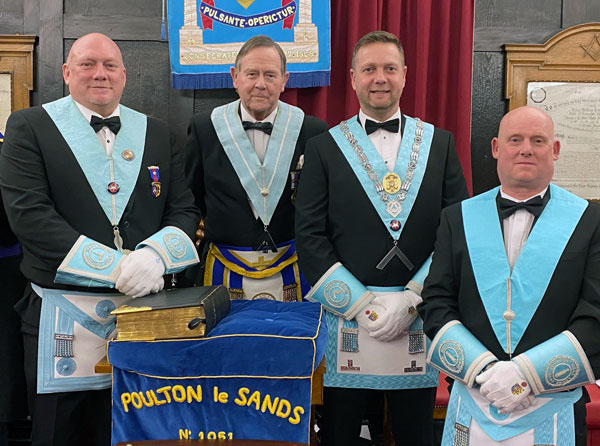 Philip was accompanied by Past Provincial Grand Master Tony Harrison, grand officers; Philip Gardner, John Wrennall and Neil McGill Chairman of the Lancaster Group. Scott Devine, Vice Chairman of the Lancaster Group and Chris Larder group secretary were also in attendance with acting Provincial grand officers; Provincial Grand Almoner Paul Broadley, Provincial Grand Junior Deacon Dave Shaw, Provincial Grand Standard Bearer Tim Gill with Matt Kneale and Mark Little, both of whom are Provincial Grand Stewards.
Matt was presented as master elect by Tony Clarke. The ceremony was conducted by installing WM Stewart McVernon. The installing officers were, senior warden Geoff Bury, junior warden Frank Heath and inner guard Tony Clarke.
The third degree working tools were presented by Paul Stebbing, the second degree working tools by Ben Woods and the first degree working tools by Stuart Bailey. The WM appointed Ian Woods as senior warden and Gareth Harrison as junior warden.
The address to the master was given by Tony Clarke, the address to the wardens by Mike Ashton and the address to the brethren of Poulton le Sands lodge by Philip Preston. Dave Shaw gave the address to the deacons and the address to the stewards was given by Matt Kneale.
Philip Preston was pleased to announce that the lodge had made donations to Masonic and non-Masonic charities to the value of £7,431.93.
The organist was David Tattersall and the master's song was performed by John Bates. A total of 75 brethren attended the festive board at the Lothersdale Hotel. The toast to the WM was given by the WM of City of Lancaster Lodge No 281, Lee Fisher.
WM Matt Catlow was born in December 1971 at Morecambe Queen Victoria Hospital. His parents were John Catlow and Pamela Catlow. His father's family came from the Nelson and Colne area of Lancashire and his mother's family was from Chester. They were introduced to each other by the Vicar at St John's Church, Heysham and never looked back. Matt is the third of four children. He has two elder brothers and a younger sister.
Matt was educated at St Peters Primary School, Heysham and then at Heysham High Secondary School. Matt was keen on sports and represented his school at rugby, football, high jump, 100 metre hurdles, cricket, and swimming. On leaving school he continued to play rugby for the Vale of Lune until he was 18.
After leaving high school he secured an apprenticeship as a joiner and attended Lancaster and Morecambe College in advanced joinery for 4 years. On serving his time and gaining qualifications in advanced joinery, Matt stayed on the tools for another year before changing job to become a bench carpenter, then a site manager and later a project manager working for Jarvis Construction looking after building sites across the UK.
Matt enjoyed his time visiting different towns as he was only in his 20s and this lasted for several year before he started his own construction company. This he built up in the first year, employing 30 staff consisting of joiners, plasterers and painters. In 2005, at the age of 33, Matt had had enough of traveling the country and was approached by his father to join the family firm becoming a shareholder and going into partnership with his father and brother, Scott. Matt's father has since retried and Matt and Scott have grown the company and are now the only skip waste management company in the area.
The two brothers also own an LPG company and in 2008 bought out their main competitor and opened a fuel site on Vickers Industrial Estate where it is still running today. In 2010 they started a new company BSM Metals Ltd, which is currently operating on White Lund Industrial Estate, working alongside their skip hire company recycling the scrap metals. In 2015 they started Catlow Properties Ltd purchasing industrial units and industrial land. All this would not have been possible if it were not for V Catlow and Son Ltd, a firm of coal merchants started in 1950 by his grandfather Victor Catlow and the hard work of his father Brian Catlow. This gave the brothers the foundation and work ethic they still have today.
In his spare time, Matt enjoys country pursuits; shooting, fishing and wild fowling. He supports Liverpool and Morecambe Football Clubs and still visits the Vale of Lune Rugby Club where his two sons now play.
Matt is married to Joanna who he met in 2006 and have had a wonderful time bringing up their family. When Matt first met Joanna she had a five year old daughter Faye who is now 21 and living and with her partner and two year old son.
Matt's first son Harry was born in 2008 and attended St Peter's School and now excels at Ripley St Thomas School. Freddie was born in 2015 and attends Mossgate Primary School. He plays football for Heysham Blue Stars and like Harry, plays rugby at the Vale of Lune.
Matt's grandfather and uncle on his mother's side were both Worshipful Masters at Whitby Masonic Hall, Ellesmere Port.
Matt was initiated in September 2015 at Poulton le Sands Lodge. He was proposed by Tony Clarke and seconded by Mike Craddock. Elder brother Scott joined at the same time and brothers were initiated, passed and raised together. Matt had the advantage of going through each ceremony first so was able to watch Scott be taken through each ceremony on the same night, enjoying the unique experience of the lodge having two brothers experience their Masonic journey together. In 2021 Matt was appointed as the new membership officer, a position he holds dearly to help ensure the growth of the lodge and Freemasonry in general.