Members of University Lodge of Liverpool No 4274 founded the Masonic Assistance Team (MAT) back in 2020 in response to the COVID-19 pandemic, helping families who were self-isolating. This then grew to include over 200 members from all over the UK providing help and resources.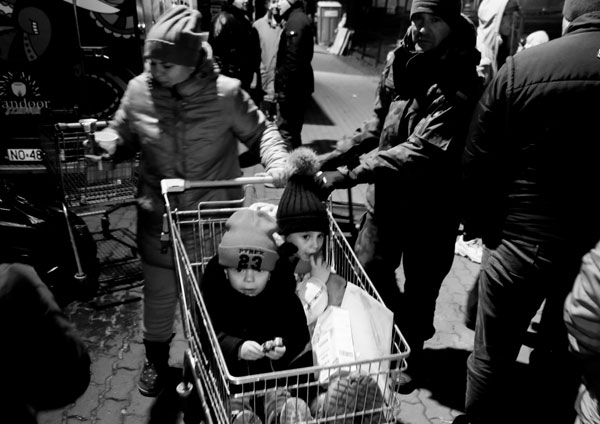 Lodge steward Adam McQuire, has recently returned from the border with Poland and Ukraine and he explained that his first trip was to understand the situation on the ground. Adam was based at a border crossing in Medyka, close to the city of Przemyśl, approximately 80Km from Lviv in Western Ukraine. The border crossing is used by refugees, mainly on foot, to cross into Poland, generally 3,000 to 4,000 people a day, mostly women and children. This number has steadily increased however and, as the fighting edges closer, it could rise to as many as 15,000 to 20,000 a day, especially following more recent attacks on the city of Lviv.
The process of crossing the border is slow and can take many hours, particularly as the border crossing has now opened 24 hours a day. Temperatures have fallen, especially at night, with some refugees suffering hypothermia whilst waiting to cross into Poland and safety. Medyka, has a small field hospital providing basic medical provision with volunteers from the Sikh foundation at Camp Nalwa, as well as other small groups handing out hot drinks and food, sim cards (Polish), and transport to take people to Przemyśl and refugee centres.
The worry, explains Adam, is that refugees from active war zones and the east of the Country are beginning to trickle through and more are expected on the way. There is an urgent need for medical equipment, as well as more basic necessities, in order to assist the needs of refugees who may be injured, unwell or, as recently occurred, a group of disabled children who were waiting to cross and had been sheltering in a nearby school in Ukraine.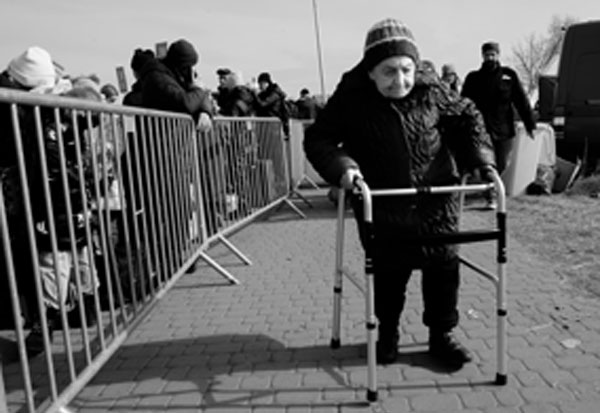 The Ukrainian side of the border crossing has very basic medical facilities and hardly any provision to treat refugees who may need medical help. This appeal aims to supply those medical supplies to the Ukrainian side of the border.
Many refugees are in a state of shock on arrival at the Polish border and, whilst they appear stoic and strong, once they realise they are safe and have completed the long and dangerous journey, many break down. Adam describes the scenes as heart-breaking.
The MAT Team have set up a just-giving page so that funds can be raised to buy specific medical items which are required; medical trauma kits, tourniquets, compression bandages, trauma bandages, chest seals, intravenous lines, cannulas (1-way and 2-way), intravenous regulators and two defibrillators, one for each side of the border.
The team would also appreciate donations of the following items; First-Aid kits, Ibuprofen tablets, Paracetamol tablets, Calpol, nappies, baby wipes, sanitary products, anti-histamines, anti-septic wipes, cotton wool dressings, bandages, plasters, safety pins, Sudocrem, Savlon or other antiseptic creams and shower gels.
A drop off-centre for donated goods has been established at Garston Masonic Hall by kind assistance of hall chairman Mal Yates. Items can be delivered to the hall on Mondays and Thursdays, between the hours of 09:15 and 11:30 am. Donations to the just-giving page can be given by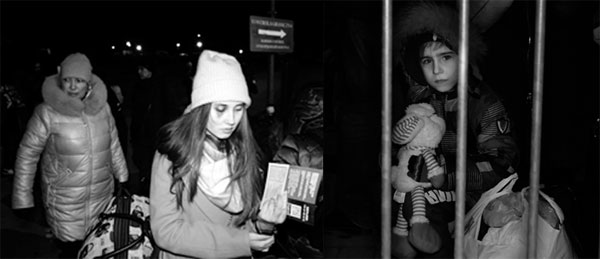 The aim of the appeal is to purchase the specific medical supplies and then collect the items which have been donated. Adam will then load them on to a van and drive to Medyka, Poland during the first week of April and distribute the goods to those medical facilities on the Ukrainian side of the border that need them.
Typically, the supplies then have to be carried on foot over the border as any vehicles crossing the border could fall under suspicion. Whilst Adam does have a protective helmet and is working on obtaining body armour, it is a dangerous undertaking and Adam described the sounds of Russian bomber formations during his visit to Ukraine as extremely unnerving.
It is an extremely brave and selfless undertaking and any support, no matter how small, will be gratefully received by the MAT team.