The University Lodge of Liverpool No 4274, part of the Gladstone Group has been instrumental in the creation and management of the Masonic Assistance Team. Junior Deacon of the lodge Adam Lindop explained: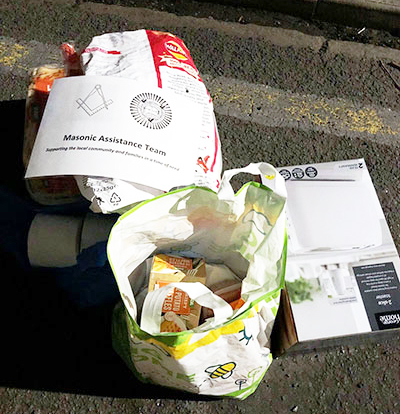 "When the government first introduced measures to combat the spread of COVID-19, I decided that I could not stand by and be idle while the most vulnerable members of our fraternity were at risk and so decided to give what assistance I could in the form of gathering a team of volunteers.
After speaking with Liam Hayward we set about starting to see if we could help where we could. We quickly realised that we could not in all consciousness just help Freemasons as we were seeing a need for help all around us. As Freemasons we decided we could not ignore this situation and made the decision to open up our services to the community at large."
Their first assistance involved shopping for a small family in Anfield, Liverpool who were following government advice and self-isolating and so required assistance. The need for further help was quickly apparent explained Adam: "At this stage only Liam and I were involved but we did not imagine how quickly things would take off. Within days we had more requests for help coming in and we realised that we would need more volunteers."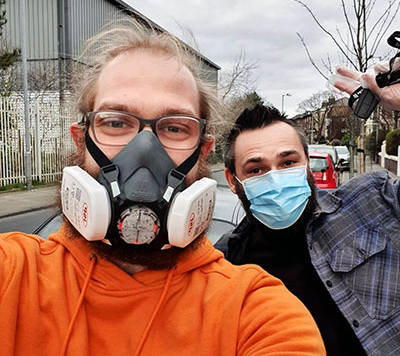 Posting within the University Lodge of Liverpool's WhatsApp group, a small team of volunteers that were willing from the outset to do anything and everything that was needed to help were quickly assembled. Coming from as far afield as Warrington and the Wirral, the team grew to a dozen Masons from several different lodges, predominantly within the Gladstone Group, and at that point the Masonic Assistance Team was born.
Lodge secretary Alan Moore quickly established himself as a vital source of assistance to the team and as a source of invaluable advice, being on the phone constantly to give help and guidance.
With help from Adam McQuire the team managed to acquire personal protective equipment (PPE), and soon found that its assistance was becoming more and more sought after. Liam Hayward took on the vital role of dealing with administrative matters and as a point of contact for service users and outside agencies. Liam detailed how the help was provided: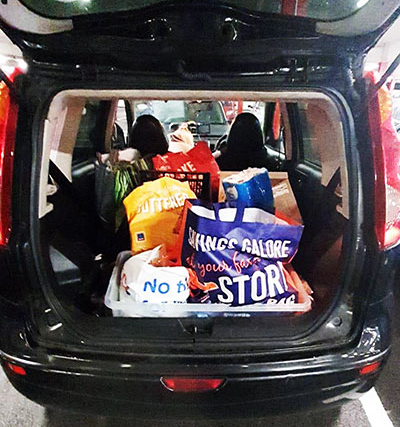 "Our service users quickly showed us genuine people in need of help; in need of anything from food shopping and prescription pick-ups to sign posting to other services, as well as dealing with foodbanks and carrying out welfare checks. We quickly established ourselves as a much-needed service and even found ourselves included in the community section of the Liverpool Echo newspaper website. Word quickly spread and our scheme became known as far off as Canada with the relative of one user messaging to ask if we could help their parents!"
The team of volunteers began to receive requests from a number of different sources. A Liverpool Housing Association became aware of the team and approached it to assist where they had been unable to get help from other bodies. The team carried out a number of different activities, from helping individual service users with food shops, housing associations to establish a line of assistance for their residents, to all the way to helping arrange for food parcels for those with no food and delivering much needed food and PPE to outside agencies.
Adam explained that help came from unexpected quarters: "We have worked to help as many people as we can, where and whenever we can, even recruiting a Freemason from Oxfordshire to carry out online and telephone welfare checks when the local volunteers were unavailable".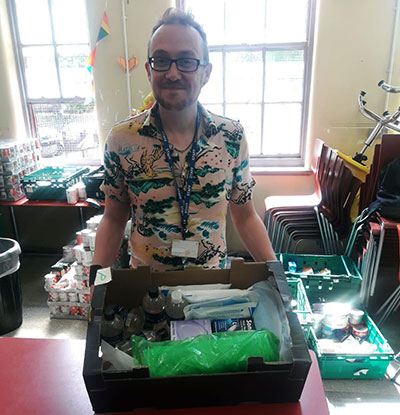 In recognition of the work of the Masonic Assistance Team, a number of service users enquired if they could donate small sums in support of that work. Lodge secretary Alan Moore added a fundraising section to the University Lodge of Liverpool's website with donations going directly to the Masonic Charitable Foundation. To date this has collected £252 for Masonic charities.
Adam explained what it has meant to him to be a part of this amazing team: "All in all, it has been an emotional and uplifting experience to see the younger generation of Freemasons immediately answer the call to arms to help those most at risk and continue to do so without hesitation or reservation; after all, a friend loves at all times and a brother is born for a time of adversity.'"
To date the team has assisted almost 200 people and plans to continue its works in some form beyond COVID-19. With thanks to all of the volunteers, Szilard Pop, Adam McGuire, Holly Tann, Tom Owens, Jim Hankey and Chris Farley, the work of the Masonic Assistance Team still continues to provide assistance to those who require it.