Deputy Provincial Grand Master. Philip was accompanied by Assistant Provincial Grand Master Peter Schofield, Grand Officers Peter Church-Taylor and Chairman of the Lancaster Group Neil McGill. Lancaster group Secretary Chris Larder was also present. Acting officers in attendance were Provincial Deputy Grand Director of Ceremonies Robb Fitzsimmonds, Provincial Grand Almoner Paul Broadley together with Provincial Grand Junior Deacons Alfred Dickinson and Dave Shaw.
At his installation ceremony, Marian was presented by Simon Das, who was Marian's proposer. The ceremony was conducted by Installing WM Stuart Bateson. The installing officers were senior warden Ron Gibson, junior warden Malcolm Brown and inner guard Geoff Wilman.
Working tools of the third degree were presented by Mark Swanepoel, the second working degree tools by Adrian Kerslake and first degree tools by Connor Ormerod. The WM appointed Stephen Cooper as senior warden and Simon Das as junior warden. On completion of the Installation ceremony, installing Master Stuart presented Philip Gunning with a list of donations to Masonic and non Masonic charities to the value of £2,570.
The address to the master was given by Stewart Aimson, to the wardens by Max Yates and to the brethren of Morecambe Lodge by Philip Gunning. The organist was David Tattersall and the master's song was performed by Malcolm Brown. A total of 46 brethren attended the festive board and the raffle raised £320, plus £40 from the Master's The toast to the WM was given by Simon Das.
Marian Korzeniowski first came to Morecambe 33 years ago in 1989 when he was still a student, working towards his degree in Modern Languages from the University of Wales in Bangor. He received a first class honours and subsequently did a Master's degree in Applied Linguistics at the University of Surrey. He was about to do a PhD but realised it would be a far better idea to pay off his debts instead. He found work at a video rental shop in Morecambe, and then at a bingo hall in Lancaster.
While was working as a steward at the bingo hall, he spent a lot of time talking to the ladies who were regular visitors there, and who told him they liked his 'posh accent'. When he mentioned he was thinking of leaving because of the low pay, one of the ladies told him to apply to a chicken factory in Morecambe, because they were "desperate for staff" and "had unlimited overtime".
Marian turned up at the chicken factory on his day off and was offered a job on the spot. Soon, he was doing 70-hour weeks, living a life that consisted solely of working and sleeping – which was good from the point of view of paying off his debts, because he was generally too tired to ever go out to spend his wages.
After nearly two years in the factory, he began to get fed up working in near-freezing conditions and what he describes as "coming home smelling like a tin of cat-food". He changed jobs and started work as a proof-reader for a small publishing company in Lancaster. Proofreading was a comfortable job but Marian missed his overtime earnings and went back to the chicken factory within a year.
This time, he decided to go for promotion in the factory, and started taking an interest in how the business was run. He was soon a supervisor and then worked his way further up the ranks, ending up as Training Manager in 2006.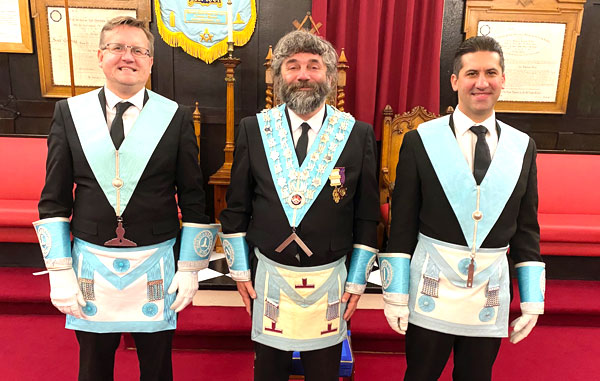 Marian speaks fluent Polish and unexpectedly found himself much in demand when large numbers of Polish people started moving to Morecambe in 2004. He received offers of work from a number of local businesses and worked as a part-time Polish Interpreter for the best part of a year for an employment agency run by Daniel Crossley.
Since 2015, Marian has been running his own business teaching English to Polish people (with one group who he teaches German), as well as working as an interpreter for anybody who will pay him for his time.
Marian passionately believes that anybody can learn a foreign language and he says "It's just a matter of putting in the effort and concentrating on learning those parts of the language you're actually likely to use".
Marian has only ever used language courses he created himself, and attributes their popularity among Polish people to the fact that he teaches authentic, real-life-ready English, English the way it's actually spoken, and not just the posh, proper stuff.
Much of his work is conducted in the evenings and he rarely has a night off, which greatly restricts his ability to attend other lodges, though he has committed himself to doing more visiting this year.
Marian was proposed by Simon Das and initiated into Freemasonry at Morecambe Lodge in January 2016. Marion's most enduring memory of his first night in a lodge room is Fred Schofield, who delivered the ancient charge at his initiation and became a role model for him. Marian has tried to emulate Fred and has himself now delivered the Ancient Charge to new brothers on several occasions, though he is only too aware that he has a very long way to go. He has taken his commitment to Masonry very seriously. He rarely misses a practice, let alone a Lodge meeting. He joined Morecambe Chapter in 2021.
With not many relatives in the area Marian has often said that he regards his brothers in Morecambe Lodge as his family. He regularly brings a bottle of some kind of Polish alcoholic concoction as a raffle prize for the festive board and says it is always a pleasure to see who wins it.
Once Morecambe Lodge started meeting again in October 2021 after Covid, Marian provided 13 bottles as raffle prizes for the evening, one for each meeting which the Lodge had been forced to cancel since April 2020. Possibly the only time in Lodge history where the raffle prizes outnumbered the brethren present, but at least nobody went away empty-handed!
Marian enjoys potjie-cooking in a cast-iron cooking pot from South Africa, which looks like a witch's cauldron. He is passionate about is anything related to languages and has been a self-confessed language nerd since childhood. He speaks Polish and German fluently and can hold a basic conversation several other languages. He finds learning languages a pleasure and has since dabbled in learning to read Old Church Slavonic as well as Ancient Egyptian hieroglyphs.
Marian's most satisfying hobby is Masonry. He says: "I don't know how it works, but it works, it gets complete strangers to like each other and become firm friends. I feel genuinely privileged to be part of it."