On an exceptionally windy night the members of Pro Patria Lodge No 9952 paraded into the temple in their normal military fashion, lead as always by the Union Flag. The WM, Juan Topping opened the lodge in due form and adeptly transacted the business of the lodge before the tyler gave the knocks and Warrant Officer 1 Richie Puttock was admitted.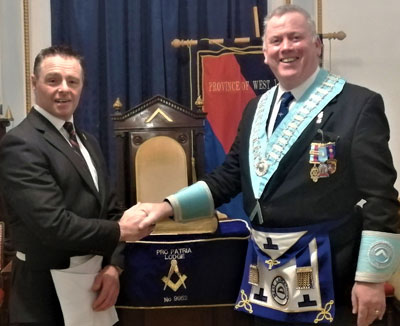 Having waited for nearly 2 years for this day to arrive, due to operational deployment, he was expertly marched around the lodge by the junior deacon Mike Joiner.
The WM swiftly proceeded onward and the candidate then took his obligation. Richie Puttock was then invested with the distinguishing badge of an entered apprentice Freemason by the senior warden, Mark Smith.
Terry Stevens-Lewing, continuing the WM's expertise, then assisted him with a superb delivery of the north east address, expeditiously followed by the working tools of the degree.
Mark Smith subsequently delivered a magnificent charge to the new brother and the WM afterwards gave an address to the candidate entitled 'An explanation of your preparation.' This is not normally seen during the initiation ceremony but was greatly welcomed by the brothers in attendance, some having never heard the address before.
At the conclusion of the initiation ceremony, lodge mentor John Pitches, warmly welcomed Richie on behalf of the lodge and the North Fylde Group. Then with all other business having been transacted, the lodge was closed and the brethren retired to the festive board.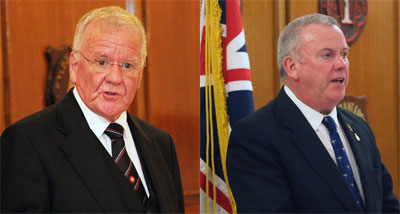 The food by Lee Munro and his team at Masonic Event Catering was, as always, magnificent and the atmosphere was warm and welcoming. The toasts came thick and fast and the toast to the WM, as the immediate past master, Ray Pinkstone, pointed out was 'short'. Ray then, as Richie's proposer, had the pleasure of proposing the toast to the candidate, giving a thorough account of Richie's military career which culminated in his role as Director of Membership Operations for Royal Marines Association.
During Richie's response in which he thanked everyone for their roles in the ceremony, he indicated that he had been in some terrifying situations during his military career, but none as scary as when the junior deacon had presented him the charity bowl. He didn't know if he had to run, hide, or fight his way out. He was relieved and gratified, therefore, when he got a quiet whisper in his ear.
The toast to absent brethren was undertaken by Mark Smith and the candle was then extinguished with all due reverence.
The brethren managed to expand the charity account by over £440 for distribution to both Masonic and non-Masonic charities. A joyous and happy evening was had by all on this most brotherly of occasions. The final toast was imparted by Terry Stevens-Lewing before the evening's spirit was further carried on in the St Annes Palace bar.