Malcolm Worsley, WM of St Michaels on Wyre Lodge No 8348, celebrated 60 years as a Freemason since his initiation in 1962. Malcolm requested that the ceremony conducted by Assistant Provincial Grand Master Peter Schofield take place at the restive board in order that friends and family could be included. Peter was accompanied by seven grand officers from the Provinces of East and West Lancashire and Scott Devine, Lancaster Group Vice Chairman.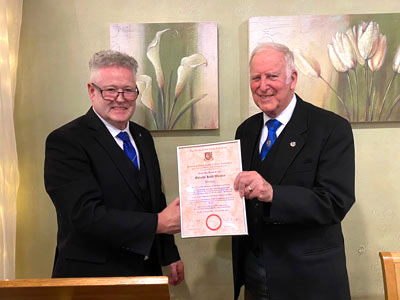 Malcolm Worsley is a Past Senior Grand Deacon and Past Assistant Provincial Grand Master of the Masonic Province of East Lancashire. Following the presentation by Peter Schofield, Nigel Bramley-Howarth paid tribute to Malcolm and Norma's public and private life over the last 60 years.
Malcolm's wife Norma, daughter Helen and son Ian and their families are very important to him and he is very proud of them and their achievements. Norma has always been by his side throughout his life. Peter thanked her for the wonderful support she has given to Freemasonry over many years quite rightly earning the very distinguished title of Worshipful Mistress.
Peter commented that Malcolm's desire and insistance on the inclusion of families in our Masonic activities has been a major influence to the success of the many lodges and chapters of which he has been a member and his guidance and direction in this vitally important initiative has been nothing short of inspirational and has gained the respect and admiration of many over his Masonic career.
To be a member of any organisation for 60 years is a remarkable achievement and something that many of us are very unlikely to achieve. We quite rightly expect the highest standards of our members in terms of respect for others, helping those less fortunate than ourselves and observing strict morality in all our dealings and behaviour. To have lived by and practiced these principles for 60 years makes this achievement even more remarkable.
In his address, Peter outlined some items of interest from 1962. The UK Prime Minister was Harold McMillan and John F Kennedy was President of the United States. The world held its breath with the Cuban missile crisis when the USSR planned to deploy missiles in Cuba bringing the world to the brink of nuclear war. The last trolley buses in London were removed from service and Glasgow also removed its trams from the streets making our own sunny Blackpool the only tramway left in the UK. Doctor John Charnley successfully completed the world's first full hip replacement surgery at Wrightington Hospital in Wigan.
Popular television programmes for those fortunate enough to own a TV included Opportunity Knocks, Dixon of Dock Green, The Beverley Hillbillies and Coronation Street. In north west England the average cost of a new
house was £2,400 and a new car was £500, the average salary was £562. A litre of fuel was 5p and more importantly a good pint of beer was 8p.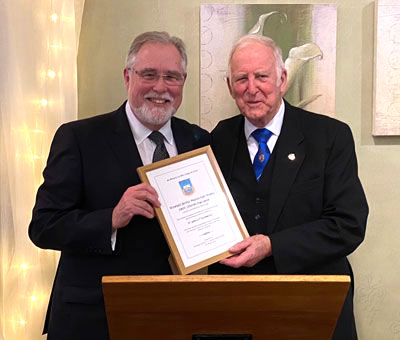 In the same year on 4 December 1962 Malcolm Worsley was initiated as a Freemason and took his first steps in Lodge of Good Intent No 7029 in the Province of East Lancashire. His proposer was his father-in-law Arthur Duff and his seconder was Jack Miller. He was passed to the degree of a fellow craft on 3 March 1963 before being raised to the sublime degree of a master Mason on 3 September that same year. Regrettably the minutes of Malcolm's initiation could not be read out as they are stored in UGLE archives.
Malcolm progressed through the various offices of Lodge of Good Intent before becoming WM for the first time on 4 November. He was appointed to the office of charity steward in November 1992 and remined in post for 8 years.
Malcolm occupied the chair of the lodge for a second time in 2000. By invitation from the ProvGM he became a joining member of Lodge of Fortitude No 64 in May 2000 before being installed in the chair of King Solomon in Lodge of Fortitude in May 2018.
Malcolm joined a further five lodges in the Masonic Province of East Lancashire; Royal Oak Lodge No 5919, East Lancashire Provincial Grand Officers' Lodge No 3747, Acorn and Rose Lodge No 5677, Frederick W Towns Lodge No 9328 and Crescent Lodge of Good Intent No 4524.
In 1999 he became a joining member of this St Michaels on Wyre is currently WM of this Lodge. And in 2019 joined Plantagenet Lodge of Installed Masters No 9357.
In the Provincial Grand Lodge of East Lancashire, Malcolm was appointed to the rank of Past Provincial Junior Grand Warden. In April 1992 he was appointed to the rank of Past Assistant Grand Sword Bearer. A just reward for his committed service to Freemasonry in general and the District of Salford in particular.
Malcolm was appointed as Salford District Secretary in 1984 and District Vice Chairman in 1986 before appointment to District Chairman in 1989, serving in this role for 10 years.
In 1994, Malcolm was promoted to the rank of Assistant to the Grand Superintendent of the Province of East Lancashire before his appointment as Assistant Provincial Grand Master of the Province of East Lancashire on 4 November 1999. He held this office for seven and a half years.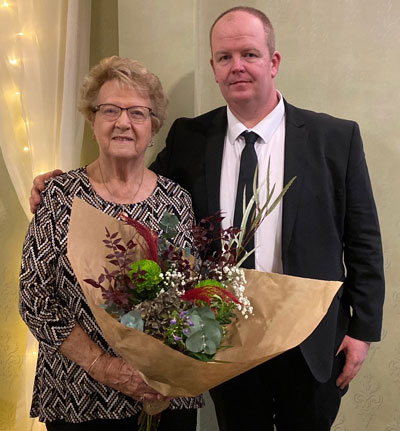 In this role, Malcolm attended literally countless installations, celebrations, committee meetings, social and charitable events in addition to private visits to lodges and chapters throughout the Province of East Lancashire travelling from his home in West Lancashire. In the United Grand Lodge of England Malcolm was promoted to the rank of PSGD, a just reward for his outstanding service as AProvGM.
In the Royal Arch Malcolm was exalted into Thornton and Cleveleys Chapter No 3854 on 2 December 1981.He has since joined Trinity Chapter No 5651, Senatores Chapter of installed First Principals No 8966, East Lancashire Provincial Grand Officers' Chapter No 3747 and was a founder member of Knott End Chapter No 8674. Malcom has held various offices in all the chapters and is a highly respected Royal Arch Mason in both the Provinces of East and West Lancashire. In April 2005 Malcom received promotion to Past Assistant Grand Sojourner.
On completion of Peter's presentation, Scott Devine was invited to read out the inscription of Malcolm's certificate from Provincial Grand Master Mark Matthews which was then formally presented. This was followed by a tribute to Malcolm and Norma's public and private life by Malcolm's friend of 30 years, Nigel Bramley-Howarth PGSwdB, Past Deputy Provincial Grand Master of the Province of East Lancashire.
Phil Gardner Past Assistant Grand Deacon was invited to present Malcolm with a framed certificate on behalf of the members. The lodge wardens presented Malcolm with a bottle of whisky and immediate past master James Hughes presented the most important award of the evening, flowers to Malcolm's wife Norma.