Brethren of Trafford Park Broad Oak Lodge No 4486 met at their regular meeting to celebrate 50 years' service to Freemasonry of Malcolm John Alexander White PPrAGSuptWks. The event was held at Elm Bank Masonic Hall in the presence of fellow brethren and visiting friends. For the celebration, the brethren were honoured by the presence of APrGM Dave Walmsley accompanied by Eccles Group Chairman Stuart Boyd, PrDGDC Ian Halsall and acting Provincial grand officer Craig Russell.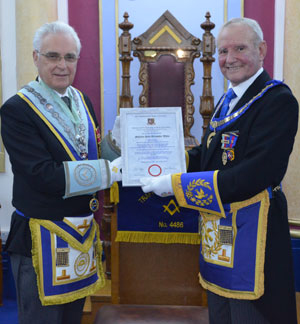 The distinguished guests were welcomed by Stuart Boyd who presented Dave and Ian with the traditional Eccles cakes which were gratefully received.
The celebrant Malcolm, who is the WM of the lodge, opened the lodge and conducted the necessary business and welcomed the APrGM and his officers into the lodge.
After being offered the gavel and accepting it, Dave occupied the chair and asked for Malcolm to be placed in a prominent position. Dave, who incidentally is a member of the lodge, began by saying: "Brethren, my appointment as Assistant Provincial Grand Master, came with many duties and responsibilities but there are very few, if any, more enjoyable than officiating at the special celebration of a brother's membership of Freemasonry. Tonight, it is indeed a great privilege for me to be here in my own lodge and relate to you the life and times of our WM, Malcolm John Alexander White who of course this evening celebrates 50 years as a Freemason."
Dave then took everyone back in time to the year 1949, when Malcolm was born on 15 October in Isleworth, being the only child of hairdresser James Gordon Maclean White and pharmacist, Annie Anderson White. 1949 was indeed a historic year, the Monarch being King George V1 and Prime Minister Clement Attlee led the then Labour Government.
In addition to Malcolm, a number of other famous people were born that year. Meryl Streep, Sigourney Weaver, Bruce Springsteen, Richard Gere, Nigel Havers. Labour leader Jeremy Corbyn, sportsmen, Arsene Wenger, Brian Kidd, George Foreman and Alex Higgins to name a few.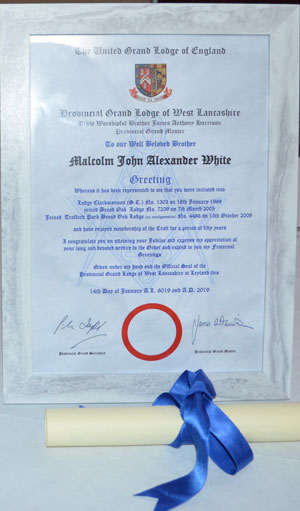 Malcolm's birthplace being Isleworth, which in itself is a place of historical interest, apparently it is of Saxon origin, parts of which became orchards and then market gardens. Later in the 19th century numerous mansions and large houses principally for aristocrats and high achievers were established.
In his early years, Malcolm too was educated locally in Isleworth, privately at Kew College and latterly at Isleworth Grammar. At a young age Malcolm followed his father's interest as a band leader in the Boys Brigade, Malcolm thoroughly enjoyed the boy's camps in Dorset and excelled as a drummer. He has fond memories of the monthly parades and in fact was lead drummer for their annual concert at the Royal Albert Hall in London.
Like many young boys of that era Malcolm was a keen London bus spotter travelling all over looking for particular numbers, he had to be quick because invariably they always came in threes! He recalls the last London trolley bus and the first Routemaster bus in his area.
He was also a fan of Brentford Football club, well known for comedian Bradly Walsh playing for them!!
Whilst at school Malcolm found work as a part time delivery boy for a butcher, but at the age of 16 he progressed from bicycle to Lambretta, which certainly as Malcolm would say, extended his horizons occasionally finding himself at Brighton
Malcolm's true ambition however was to be a motor mechanic and thanks to a contact of his father, he secured a position with a local garage with a princely wage of 1s 8d per hour, which today relates to approximately £1.66p per hour, still well under today's minimum wage!
Clearly Malcolm's ambition to be a mechanic was directly commensurate with income, as such he declined the job and went to where there was more money and by working for the Post Office Savings Bank where he remained for a relatively short time because sadly his grandmother's health deteriorated and the family relocated to Scotland to help care for her.
It was during 1966 in Scotland where Malcolm's management career predominantly in transport began with Road Services Forth Ltd, a national freight company where amongst other areas within the business, part of his management training included a period in the workshops, which to an extent fulfilled some of his mechanical ambitions.
Clearly Malcolm had embarked upon a busy and life changing period. In addition to his intense studies for management qualifications he met Morag. They actually met in a car park at the rear of his father's business who had by this time also begun a taxi company. Malcolm would carry out repairs and services on the car park and Morag began to park her car there more and more. Coincidentally, Malcolm maintained more and more taxis and as the saying goes, 'the rest is history' and they recently celebrated 48 years of marriage.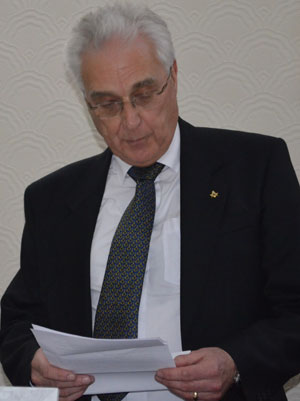 Malcolm and Morag have two daughters; Nicola a school teacher and Lindsay a senior social worker, each have a son Harry 7 years and Mackenzie 2 years, without doubt making Malcolm and Morag very proud parents and grandparents.
Despite all the events, it is clear he remained focused on his career ambitions because in 1972 Malcolm was promoted to Depot Manager, a position of which he was justly proud, being the youngest within the whole of the National Freight Corporation. Malcolm's ambition continued, leaving to take up a further management role with WH Malcolm Ltd which at the time was the largest privately-owned haulage company in Scotland.
Ambition didn't stop there because within a year or so the family moved to Leicester where Malcolm secured a General Managers role within a large haulage company with responsibilities for UK and European offices.
Some 5 years later, together with a colleague, Malcolm completed a management buyout which resulted in continued success for many years, trading under the names of Market Bosworth Haulage and Bosworth Darby White, the former being the UK side of the business and the latter the Continental side. Their emblem was the white Tudor Rose entwined with the Scottish Thistle, clearly to represent his partners Yorkshire connections and of course Malcolm's Scottish base. Regretfully the partnership was later dissolved and trading ceased.
Further employment saw the White family move on again to Langho, Lancashire in order to join Faber Prest Ltd as Director/General Manager, based in Salford where Malcolm remained for some 22 years until the American directors decided to reconfigure their operations, this became the trigger for Malcolm to consider retirement until the company solicitors invited him to join their company to become an adviser on haulage company transport law relating to the Vehicle Operator Services Agency, their governing body. The company, Longsight Logistics was launched and continues to trade today, with Malcolm still contributing two days per week.
Moving on to Malcolm's quite extensive and equally nomadic Masonic career. On 18 January 1969, barely at the age of 19 years, he was initiated into Lodge Clackmannan No 1303 in Stirlingshire having been propose by his father James Gordon White and seconded by Charles Bateman.
At this point, Dave requested that secretary David Price read out the minutes of the meeting of Malcolm's initiation.
Relocating to Leicester Malcolm very quickly sought out a lodge and became a joining member of Jason Lodge No 7716 in the Province of Leicester and Rutland. Almost immediately he became tyler then junior and senior deacon. He remained a member for some six years until employment yet again caused the uprooting of the family to Langho when he joined Progress Lodge No 4016 in Eccles, now Monton Progress Lodge No 6361. Once settled he very quickly took office, serving as JW in 1992, senior warden in 1993 and master in 1994, followed by a period as charity steward. Malcolm's work was subsequently recognised by the then PrGM Colin Penty Wright, who in 2003 appointed him to the Provincial grand rank of PPrAGSuptWks.
As many in the Eccles and District Group are aware, and indeed some have experienced, the 'circuit of installed masters' can bring about many long-standing friendships and such is the case with Malcolm and the secretary David Price when they met in 1994. Malcolm, Morag, David and Sue have enjoyed many happy occasions and holidays together, so it was not very surprising that Malcom became a member of the then Broad Oak Lodge No 7239 and subsequently Trafford Park Broad Oak Lodge No 4486. However, Malcolm joined a local lodge, Ribblesdale No 3393 in the Province of East Lancashire and quickly became secretary. This temporarily led him to cease his membership with Trafford Park Broad Oak Lodge and continue his Masonry nearer home.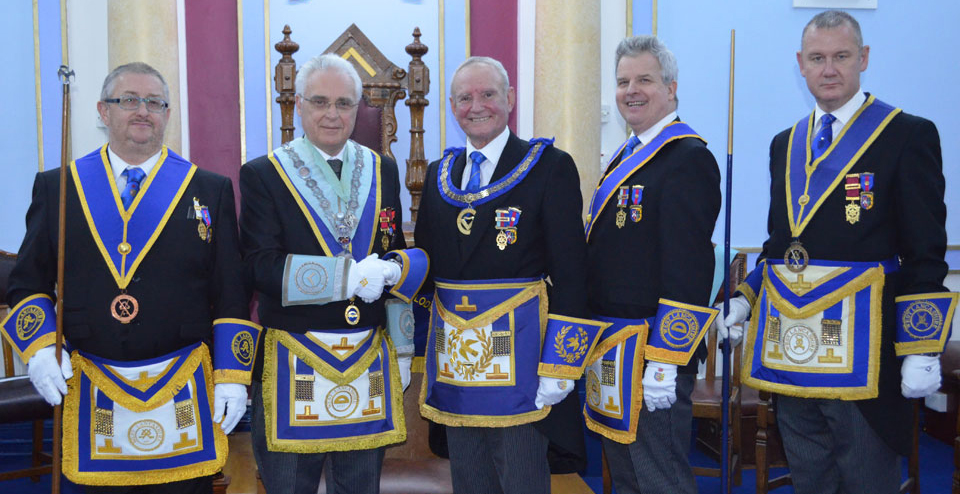 Needless to say, it wasn't long before he realised he couldn't keep away from Trafford Park Broad Oak Lodge, and so despite a round trip of approximately 76 miles he re-joined the lodge in 2013 and very quickly became lodge treasurer, an office in which he remained until he was installed into the chair of King Solomon in November and continues to assist with the accounts to this day.
Despite having a career taking him all around the country he continued to be actively involved in and support Freemasonry wherever he was, his enthusiasm has also seen him join other orders having occupied all the principal offices of Egerton Chapter No 2216 and a former Scottish master Mason.
There is no doubt that Malcolm's commitment to Masonry is outstanding and has been recognised by the PrGM Tony Harrison who appreciates all that he has done and in recognition sent his greetings by way of a personal commemorative certificate to mark Malcolm's 50 years in Freemasonry. Group Chairman Stuart Boyd then read out the certificate signed by the PrGM which was then presented to Malcolm by Dave.
Dave had one more surprise for Malcolm when he announced that the PrGM had promoted him to the rank of PPrSGD as a mark of his services to Freemasonry and presented him with a patent of appointment.
The lodge meeting was followed by a wonderful festive board at which further praise was bestowed upon Malcolm by Dave Walmsley. Malcolm was presented with an engraved tankard by a fellow brother who had travelled from Edinburgh that day and was driving back following the festive board. The special evening was concluded with the tyler's toast from Alan Perks.
Article and pictures by Tom Fredrickson