The many brethren and guests of Rivington Lodge No 8013 were honoured by the presence of Assistant Provincial Grand Master Peter Lockett and Past Provincial Grand Master of Cumberland and Westmorland Norman Turner at their regular November 2022 lodge meeting.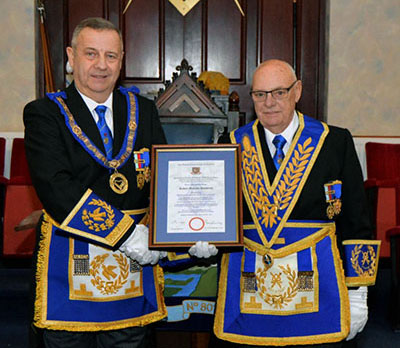 This however was far from a normal meeting of the lodge as they were celebrating in honour of the 50 years in Freemasonry of Malcolm Dewhurst. On this very special occasion, Malcolm was to receive tributes and honours from the two Provinces in which he continues to be an active Freemason, those of West Lancashire and Cumberland and Westmorland.
The lodge was opened and the general business dealt with in the usual manner by the WM David Scott before Peter and other distinguished guests entered the lodge. Peter was offered the gavel, which on this occasion he accepted with pleasure and took the chair in order to presided over the celebrations and tributes which were to follow.
Peter invited Malcolm to take centre stage before going on to give a most sincere and heartfelt account of Malcolm's life and distinguished Masonic career.
He told the meeting that Malcolm was born in Bolton in July 1942, a good year for many well-known and respected personalities from the world of sport, politics, and entertainment who were born in the same year including amongst others the US President Joe Biden and well-known Scottish comedian Billy Connolly.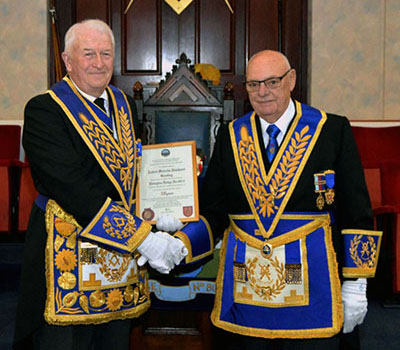 In his early life Malcolm lived with his parents Mary and Robert Dewhurst and attended school in Bolton before leaving at 15 years old to become an apprentice sheet metal worker, a trade which was to stand him in good stead for his future career as a 'hands-on' owner of a sheet metal business, building narrow boats.
Malcolm met his wife Glenis and they were married in March 1964 (58 years ago) and went on to have a daughter and two grandsons.
In 2000 Malcolm moved from Bolton and went to live in Kirby Lonsdale where he quickly became involved in the Masonic Province of Cumberland and Westmorland whilst maintaining his deep and loyal association with his Westhoughton Freemasonry.
Malcolm's Masonic career is equally as long and distinguished. He was initiated into Rivington Lodge in November 1972, having been on the waiting list for three years. After serving all the offices he was installed as master in December 1985.
Malcolm was a founder member of St James Lodge No 8910, serving as master in 1982 and again in 1995 and was also a member of Phoenix Lodge of Installed Masters No 9206. On moving home to Kirby Lonsdale, Malcolm joined Underley Lodge No 1074 in 2005, becoming master in 2019.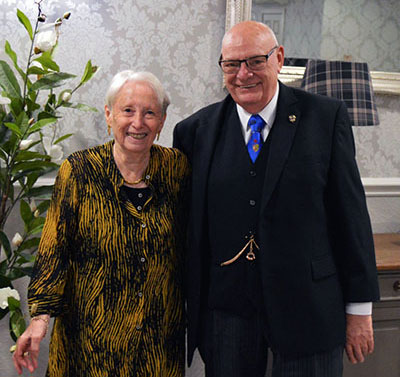 Provincial honours soon followed when in 1993 he was appointed to the rank of Past Provincial Senior Grand Deacon and received promotion to Past Provincial Junior Grand Warden in 1999 and went on to receive grand rank in 2006, receiving the rank of Past Assistant Grand Director of Ceremonies.
Malcolm's Royal Arch career dates back to 1976 when he joined Coronation Chapter of Westhoughton No 7258 and later Bective Chapter No 1074 in Kirby Lonsdale after moving there and has attained the high rank of Past Provincial Grand Scribe Nehemiah.
Malcolm is also known for his very long, loyal and dedicated service to his Masonic Hall at Westhoughton and since 1993 has been instrumental in the smooth running and development of Brookfield Hall to the wonderful Masonic Hall it is today.
Peter concluded the tributes by paying a heartfelt compliment to Malcolm by saying: "Malcolm, there is no doubt at all that your entire life has also been an example of what makes a good Freemason, as well as a good citizen, a good husband, a good parent, and in every way, a contributor to society and there is also no doubt that during the last 50 years anyone who happened to learn that you are a Freemason could not fail to see you as anything other than a good ambassador for our Order."
Chairman of the Chorley and Leyland Masonic Group Peter Allen read the certificate, which is an acknowledgement of the Province of West Lancashire's great appreciation of Malcolm's half a century of membership of the Craft.

Norman Turner then went on to present the certificate for the Province of Cumberland and Westmorland as a fitting tribute to Malcolm's long and dedicated service to Freemasonry and the esteem in which he is held in that Province.
After the lodge was closed the brethren retired to the festive board which was a very relaxed and friendly atmosphere in the wonderful surroundings of Brookfield Hall, with all present enjoying fine food, wine and fellowship.
Following dinner and the usual toasts, the toast to Malcolm's health was eloquently given by Robin Andrews-Morris, a long-time friend of Malcolm from Brookfield. In closing the evening's proceedings, the WM presented flowers to both Peter and Malcolm for them to take home for their respective wives.