It was another special occasion for the members of Lodge of Harmony No 580, with their installation taking place at Ormskirk Masonic Hall. The lodge was honoured by Assistant Provincial Grand Master Frank Umbers their principal guest.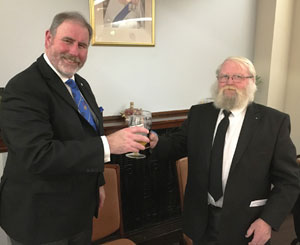 Frank was accompanied by Provincial Assistant Grand Director of Ceremonies Richard Gillett and Provincial Grand Steward Christopher Taylor. Also, in attendance was Provincial Senior Grand Deacon Alan Browne, who is also the lodge's own director of ceremonies. Alan did a fine job at his first installation as the lodge DC.
In total there were 33 members and visitors at the installation meeting, including the group chairman Graham Chambers, vice chairman Malcolm Alexander and secretary Trevor Martin. All witnessed the reinstallation of the current master of the lodge John Rogers. The ceremony was worked by the immediate past master Tony Prior, which he delivered to his usual high standard.
Presentation of the master's tools was given by David Williams, the third degree tools by Alan Johnson, second degree tools by Alan Browne and the first degree tools by the lodge's newest member, a fellow craft, William Murphy. The address to the master was given by Roy Worthington, that to the wardens by Alan Findlay and to the brethren of the lodge by Frank Umbers. All the addresses were sincerely and well presented.
Frank Umbers having brought the good wishes and congratulations of the Provincial Grand Master was then presented with charity donations from the lodge. The cheques presented on the night were to the MCF 2021 Festival, Friends of Tithebarn and the Ormskirk Masonic Hall Association each for £250. Further donations to non-Masonic charities had been made by the lodge previously; Hearing Dogs for the Deaf £123, Ophthalmic Trust £200 and 'Wish upon a Star' Christmas Appeal £462. A total of £1,535 having been donated. Frank Umbers thanked the members of the lodge for their very generous donations.
Once the Installation meeting had been closed the brethren retired to the festive board where the usual high standard of food was prepared by the chef Gary O'Brien, which was enjoyed by all. The meal consisted of ham and lentil soup, fish and chips, apple crumble and custard, followed by cheese and biscuits. During the course of the festive board a raffle was held and the proceeds of £150 will be donated to the Ronald McDonald House at Alder Hey Children's Hospital in Liverpool.