Garston Masonic Hall was the venue for the members of Lodge of Harmony No 220 and it was pleasing to see a well-attended installation for Kendal Brodie Wagner.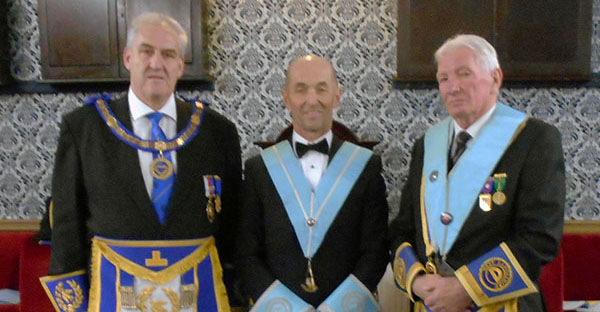 The lodge was opened by the WM Craig Robinson who, due to the COVID pandemic, had undertaken an extended period in charge of the lodge.
Craig requested that Eirwyn Jones remain as junior warden and Kenneth Bradley remain as senior warden for the installation ceremony. Craig opened the lodge in the third degree and the director of ceremonies Mark Mellor introduced the principal guest for the evening, Assistant Provincial Grand Master Andy Whittle, accompanied by Woolton and Garston Group Chairman John Murphy and other distinguished guests.
The master elect Ken Wagner was presented and then installed for the year by Craig and during the ceremony Geoff Bush carried out the salutations and presented the tools in each of the three degrees, whilst Ken Bradley delivered the address to the master.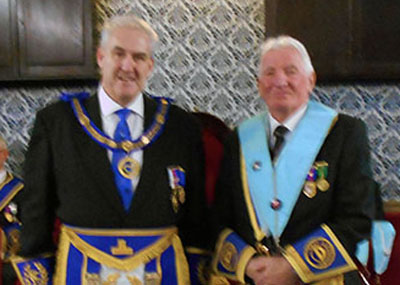 At the completion of the installation ceremony by Craig, the principal guest Andy Whittle congratulated the newly-installed master Ken and the members who had contributed to the ceremony and passed on the congratulations of the Provincial Grand Master Tony Harrison.
Ken then presented Andy with three cheques on behalf of the lodge; £220 for the West Lancashire Freemasons' Charity, £220 to the Garston Masonic Hall and £220 for the Garston Foodbank, as part of the Provincial Foodbank appeal.
At the festive board Andy gave a response to the toast which included that lodges should discuss about opening a Grand Charity chest which would gain tax relief and a favourable rate of interest. He also mentioned about the Grand Lodge initiative in attracting new members which had attracted a considerable interest in West Lancashire and had identified 226 candidates who will be distributed to the groups, dependant on the area, with 13 being allocated to Woolton and Garston. Any potential new members should be invited to social gatherings with their partners.
The lodge has a busy year with two initiations and a third degree to complete, as well as planning for 2022 when it will be the Lodge of Harmony bicentenary.