Chronologically our measurements are sub-divided by 60, and so an hour divided by 60 gives rise to a minute, and conversely a minute divided by 60, gives rise to a second.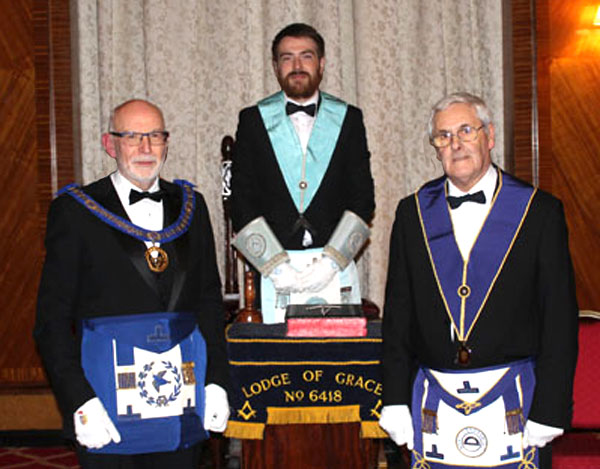 Lodge of Grace No 6418 celebrated the landmark achievement of over 60 years membership of Freemasonry for Ray Erskine and on the same night also carried out a second degree ceremony as well. Which gave rise to the thought of what is a 'second' divided by 60?
It turns out to be a jiffy. According to Wiktionary in providing its formal definition, a second divided by the basic frequency of its timer (60) to be precise.
The Britannia Adelphi Hotel, Liverpool was the location for those two very special occasions, the celebration of 60 years membership for Ray Erskine and the passing of Casey McCormack to the degree of a fellow craft Freemason.
The lodge was opened in fine form by the WM Kieran Senneck, who was assisted by no less than Ray Erskine standing in as senior warden, Mark Dimelow, junior warden, with Assistant Provincial Grand Master John James standing in as senior deacon and director of ceremonies Robert Menzies standing in as junior deacon, with Alan Morris as inner guard.
Kieran then requested that grand officer David Potts of Compass Lodge No 7052 to occupy the chair of King Solomon, David said he was honoured to do so, and proceeded to open the lodge in the second degree. The candidate Casey McCormack was superb in answering the questions posed to him, as was David Potts in delivering a fine rendition of the second degree ceremony, and was expertly guided around the lodge by John James, assisted by the wardens of the lodge and completed the passing of Casey to the second degree and making him a fellow craft of the Lodge of Grace.
Senior warden Ray Erskine then delivered a surprise by not only giving the working tools of a fellow craft Freemason but opted for the long explanation of those tools in a manner which was a delight to observe and a testament to his obvious knowledge of the 'Craft' ritual.

Having completed the first part of the business of the lodge, David Potts, then requested that John James occupy the chair of King Solomon for the second event of the evening, the 60th anniversary celebration of Ray Erskine. John asked Mark Dimelow to present Ray to him and having seated him comfortably began.
John explained that Ray had achieved the remarkable landmark of his 60th anniversary in Freemasonry and that exactly 60 years and three days before, he was first placed before the masters' pedestal at his initiation. Ray had been initiated into Mariners' Lodge No 249 in Hope Street, as a Lewis, having been proposed by his father and seconded by his cousin, a family affair! The meeting minutes recorded 71 members present and six visitors, which would be quite an occasion today, and needed 12 stewards to look after all those present.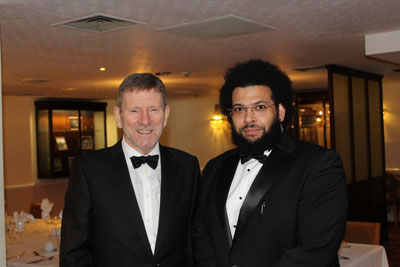 Ray was installed as master some 35 years later in 1997, becoming secretary of the lodge just four years later, a position he served in for 11 years. Ray was recognised for his very valuable contribution and appointed to the high rank of Past Provincial Senior Grand Deacon. For Ray's 50th anniversary of Freemasonry, the lodge appointed him again to master, this time at Woolton Golf Club, and celebrated his jubilee with many friends, some of whom being present today for his 60th anniversary.
Mariners' Lodge sadly handed in its warrant in 2015, having been in existence since 1783, for which Ray had the honour of delivering a dedication which was warmly received and greatly appreciated by all those present.
In 1982 long-standing friend Steven Senneck invited Ray to join Lodge of Grace, which by turn of fortune happened to have John James as master for the first time, who remembers admitting Ray after a unanimous ballot for a joining member. Ray became master of Lodge of Grace in 2003, which was the same year that Blundellsands Lodge No 2289 amalgamated with the lodge, of which Ray played a major part in the successful transition.
As mentioned earlier by special dispensation, Ray was allowed to be both master of Mariners' Lodge and Lodge of Grace at the same time in 2012, no mean feat seeing as one lodge is Bottomley and the other Emulation, which Ray carried out in his own stride. Ray was subsequently promoted to the high rank of Past Provincial Grand Superintendent of Works in 2020, but due to the pandemic was not able to be invested by the Provincial Grand Master.
John detailed Ray's early life and working career, explaining that Ray has been married for over 57 years to Janet and has three children and seven grandchildren. Ray is a keen golf player with an enviable handicap of 11, becoming club captain at Woolton and then president for three years in 2015. In recognition of his hard work, he was appointed Captain of the Society of Golf Captains, involving travel all around the country representing the society, holding the position for a further year, the first captain to do so since 1948.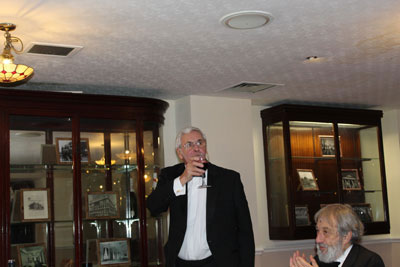 John commented that over the 60 years that Ray had been a Freemason, he has met many people who have become friends, and that the lodges Ray has been a member of, have benefitted from his counsel, experience and positive attitude, not withstanding Ray's great sense of humour.
John then asked for Gladstone Group Treasurer Paul McLachlan to read out a commemorative certificate which had been issued by the Province to mark this auspicious occasion. Paul read out the certificate to Ray, and on completion, John, conducted by Mark Dimelow, rose to congratulate Ray personally. John then requested that Kieran occupy his rightful place as master of the Lodge of Grace, and Kieran closed the lodge in due form.
The members and visitors then retired to Crompton's Restaurant to continue the evenings celebrations. At the festive board, Ray, thanked all those who had attended his celebration and reminisced that on the night of his initiation in 1962, that was just after the start of one of the coldest winters on record in the United Kingdom known as the big freeze, and it was serendipitous following the recent snowfall in recent days, which perhaps made the Adelphi Hotel a little easier to get to than had Hope Street some 60 years before. With echoes of toasts to the health of Ray and to all the other guests, the celebration due to a close and a fitting end to a wonderful celebration at the Lodge of Grace.