Stewart, (WM) of Lodge of Chivalry No 3974 accompanied by his senior warden, secretary and lodge mentor visited Lodge of Chivalry No 5685 that meets in the Masonic Hall, Albion Place, Southampton.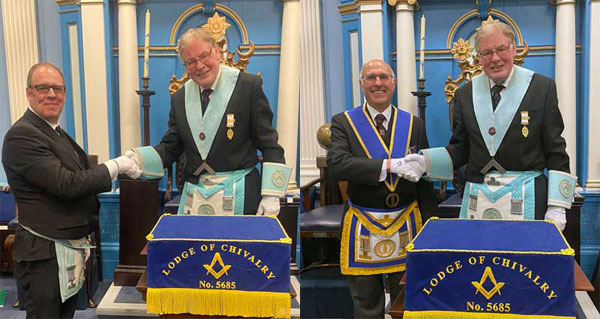 The visit was originally due to take place in 2020, sadly the visit was delayed due to the COVID-19 Pandemic. A few days before the visit, the weather forecast was for two violent storms, including two red weather warnings for the day of the visit, but did not deter Martin and his officers from making the trip to Southampton to visit the lodge on the occasion of Feras Hamati's initiation into Freemasonry.
Martin travelled down to Southampton with his wife and youngest son as they were planning to visit two of their sons on the day after the meeting. The lodge secretary Mark Holloway drove the other officers down to Southampton and despite the red weather warning and the worst storm in 10 years, they all arrived safely, a few hours before the meeting was due to start.
On arriving at the Premier Inn, they were pleased to find that they could see the Masonic Hall from the bar in the hotel. On leaving the hotel to walk to the Masonic Hall the heavens opened and did its best to soak them as they walked to the hall. That was the worst of the weather they encountered! As they entered the Masonic Hall, they were greeted by Andrew Fuller the secretary of Lodge of Chivalry No 5685 who welcomed them and took their drink orders so they were ready for them after the meeting.
The meeting was opened and the first order of business was to welcome Ian Small, the Provincial Junior Grand Warden of the Province of Hampshire and the Isle of Wight to the meeting. After salutations were given to the Junior Warden, the minutes of the last meeting were signed. Feras Hamati was then initiated into Freemasonry in a very sincere way by the members of the lodge who took part in the ceremony.
After the meeting the hospitality continued as the members of Lodge of Chivalry No 3974 shared a wonderful four course meal with the members of Lodge of Chivalry No 5685 and the other visitors. After the meal Richard Green the WM of 5685 thanked Martin and his officers for making the trip to visit his lodge and he said he and several other members of the lodge intended to visit 3974 later in the year.
At the end of the evening a short walk back to the hotel bar (in the dry!) where another bottle of wine was shared before heading to their rooms for a good night's sleep before heading back to West Lancashire in the morning.
Martin and his officers are visiting the third of the three lodges named Lodge of Chivalry, that of Lodge of Chivalry No 6372 that meets in Great Queen Street, London, later this year.