During the current COVID-19 pandemic, the residents of the Tithebarn Masonic Care Home at Great Crosby, have been missing out on the seasonal outings that would normally happen at this festive time of year. This is due to the restrictions caused by the current pandemic which dictate the necessity for them to shield in order to stay safe and well.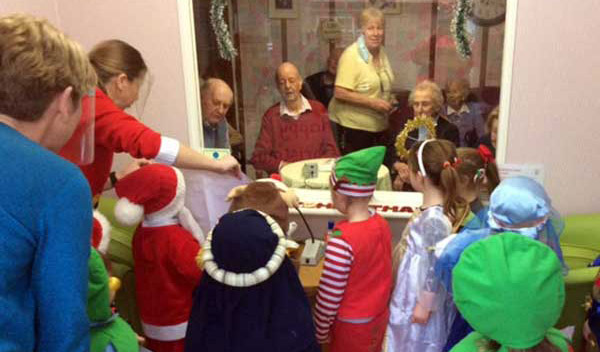 At this time of year the residents would normally have visited several of the local primary schools to be entertained by the popular school nativity plays. This year it has been impossible to attend the local nativity plays, as not even the parents were allowed into the schools to see their children performing.
This year Saint Elizabeth's Primary School in Litherland has come to rescue, by producing a video of the school's nursery nativity. This was forwarded to Mary Piert, the activities co-ordinator at Tithebarn, which enabled the residents to view it on their 70 inch television screen.
Before showing the nativity on screen, Faye Garcia, head of early years at the school, introduced the residents to the cast of the nativity, in the newly constructed visitor pod at Tithebarn, thus enabling them to observe the proceedings and ensure that all of the COVID-19 safety rules and regulations were followed and obeyed.
The children had also produced some Christmas posters for the residents to enjoy and sang a few of their favourite Christmas songs. Before the screening, the children were given some chocolate coins which were very well received.
The whole occasion was enjoyed by residents, children and staff of both Tithebarn and St Elizabeth's Primary School. At the end of the visit all involved left in high spirits and with a cheerful smile.