The Head Up charity is a mental health charity founded by Paul Minter for the armed forces, and Paul is running around the coast of the United Kingdom to raise funds for a mental awareness Retreat Centre.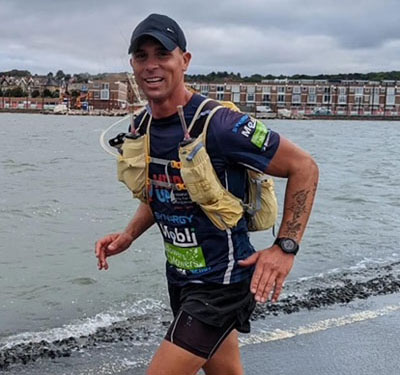 Paul is also a trustee and full-time volunteer. He served for 18 years with the Household Cavalry Regiment. This included five frontline tours of Afghanistan and Iraq. He was awarded a Mention in Dispatches (MiD) for bravery in 2011, and medically discharged with PTSD. After losing several comrades to suicide, Paul founded Head Up to enable veterans and service personnel to access mental health support.
The Retreat Centre will be a uniquely non-militarised, holistic safe haven to help current and former members of the Armed Forces recover their mental health and happier lives. As a mental health charity, Head Up's goal is to reduce the number of suicides within the military community. They will do this by empowering people to turn things around before their issues have the chance to become life-threatening. Further information about the Head Up charity can be found by clicking here.
Whilst running around the Fylde Coast, eventually arriving at Fleetwood, Paul contacted Colin Goodwin, who is the Chairman of Fleetwood Rugby Club and Blackpool Masonic Hall Chairman, to request any assistance and support they could provide whilst he was in the area.
Very quick to offer assistance to Paul along with Colin Goodwin were two Freemasons, Mark Smith and Steve Booth, both of whom are members of Brotherhood Lodge No 3967 which meets in Blackpool and Pro Patria Lodge No 9952 which meets in Thornton-Cleveleys and is an armed forces lodge. Mark is also Chairman of the Royal Marines Association (RMA) and Steve is the Secretary of the RMA.

A £500 cheque was presented to Paul for the Head Up charity. Steve and Mark donated £200 on behalf of the Royal Marines Association and RMA member George Phillips donated £100. Steve also presented a cheque from his company for £200.