The Liverpool Group of held a 'giving day' in the Roman Suite at Liverpool Masonic Hall. A continuation of a busy day in which several charitable and benevolent awards were made by the group to deserving causes.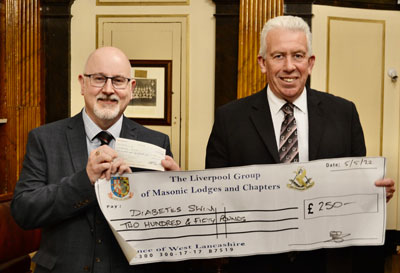 Assistant provincial Grand Master Mark Matthews had great pleasure in handing over a cheque for £250 to Tony Christy of Neptune Lodge No 1264. Having been diagnosed with type 2 diabetes but determined to do something to alleviate the position he had found himself, Tony decided to emulate that great swimmer Captain Matthew Webb of Channel and Bryant and May 'Captn. Webb' matches fame. Diet and exercise are known to help mitigate diabetes so after making a diet plan Tony also started swimming with the intention of covering the width of the English Channel at about 22 miles.
This he must fit in to suit his shift working pattern and babysitting duties of his grandchildren. The 22 miles will be achieved over a period within the quiet times of his local baths, so no worrying about jellyfish stings etc. The first Channel swim was achieved in 1875 by Captain Webb in 1875. Captain Webb was also a Freemason of Neptune Lodge No 22, not here in Liverpool but in London. He was initiated into Neptune Lodge at the Guildhall Tavern, Gresham Street, London on 25 November 1875, being passed and raised in the same lodge the following year. When he entered Neptune Lodge his address was given as 4 St Georges Gate, Liverpool, another connection, as Captain Webb had in 1860, at the age of 12, been apprenticed for two years, aboard the training vessel 'Conway' at Liverpool, then with Rathbone Brothers Shipping Company, in Liverpool, he enlisted for a further three years apprenticeship aboard their Eastern cargo ships.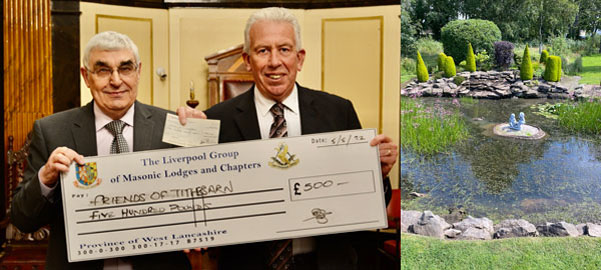 Between 1866 and 1875, Matthew served on seven ships; his last ship being the 'Emerald', on which he was appointed Captain. During his service aboard the Cunard liner #Russia' in April 1873, he attempted to rescue a sailor who had fallen overboard. For this effort, he was awarded, by the Royal Humane Society, the 'Stanhope Gold Medal' for bravery and a reward of £100. He was the first to receive this award. It will be interesting to see if Tony decides to go after another of Captain Webb's achievements, for in May 1879, Matthew won the swimming Championship of England at Lambeth Baths, London, by competing with champions from other cities. He had covered 74 miles by swimming for 14 hours a day over a period of six days. If asked nicely, the local swimming pool would surely accommodate Tony for his attempt.
The next cheque was presented to Fred Hulse, again by Mark, and was made out in favour of the Friends of Tithebarn for the sum of £500. Much of this raised through golf days and cycle tours by members of the lodges within the Liverpool Group to help at the Tithebarn and its dementia wing. The Tithebarn has beautifully landscaped grounds complete with a duck pond and lies in the historic town of Crosby in Liverpool and provides residential care and residential dementia support for up to 42 residents. The Dementia Support House includes a sensory garden, sensory boxes and assistive technology. Fred thanked Mark profusely and told all about how this will help the residents there.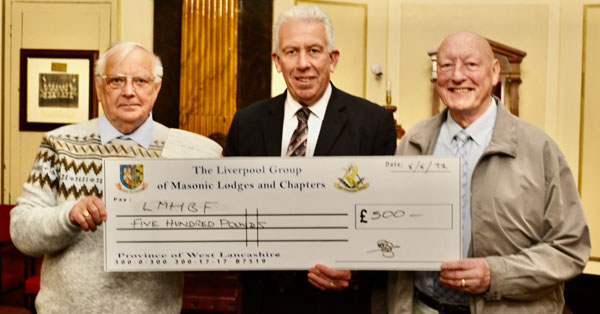 Dave Sayce and Bernie Moran are well known to all in Hope Street due to their work around the hall and their management of the Liverpool Masonic Hal Building Fund. As to be expected the upkeep of such a listed building can seem never ending. However, Bernie, Dave and their enthusiastic band of volunteers are consistently improving the buildings facilities, which all costs time and fiscal support. The Liverpool Group took great delight in being able to hand over a cheque towards the upkeep of the Hall in favour of £500, which was greatly received.
The final cheque of the day was presented by Mark Matthews to Sefton Stars, a basketball club at Ferndale Sports Centre, whose aim is the promotion of community participation in healthy recreation, for the benefit of the inhabitants of Sefton and the surrounding area, by the provision of facilities for playing basketball. They also provide facilities, in the interest of social welfare, for recreation and leisure time occupation, with the objective of improving the conditions of life for the residents of Sefton and the surrounding area.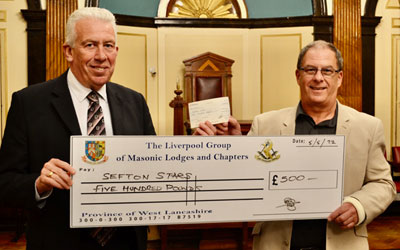 First formed in 2006 the club now has grown to 16 teams and has over 150 members playing basketball for fun, gaining and keeping many youngsters who may become involved in less desirable activities. For those who wish there are Sefton teams who play competitively at national league level, and have a boy's, a girl's, a women's and a men's team. The coaching given at Sefton Stars gives access to play for fun or to develop into competitive and elite performance for boys and girls. It is available for youths from six to 12 years, Junior 13 to 18 years and adults. The match season runs from September to April, but they train all year round. Receiving the cheque was a leading light within the Sefton Stars community, Tommy Walsh, and the £500 received will assist in continuing and expanding the club for the benefit of the community it is based in.