In the times we currently find ourselves, every now and then a beacon of light shines through. In the South Fylde Group two such beacons are Masonic brothers, Jon Boriss of Quadrant Lodge No 8044 and Jon Hardman of Ansdell Lodge No 3607, both of whom have been busy helping those in need while also fundraising for a variety of charities and providing meals for those who have found themselves on difficult times.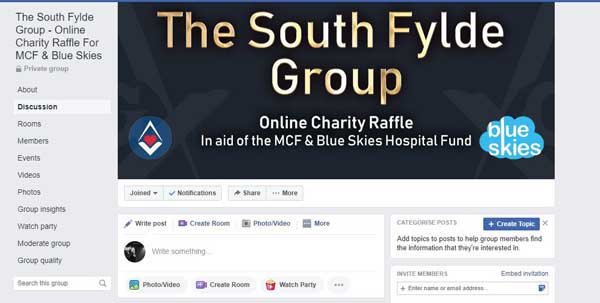 Both are relatively junior Masons and have stepped forward to make a huge impact across the Fylde Coast with both being professional photographers with a range of skills which would leave anyone astounded.
Over the past 12 weeks they have run a series of three charity raffles. The third raffle alone raised £230, which means they have raised over £1,000 so far, which will be split between the MCF 2021 Festival and the Blue Skies Hospital Fund, which supports various departments of Blackpool Victoria Hospital. Prize winners could follow results on social media such as Facebook, or log into Zoom meetings and watch the draws being made. With a final raffle currently underway, with some excellent prizes sourced from local businesses and celebrities, it is hoped that a bumper sum can be raised for the chosen charities.
They have also run a number of virtual social functions in the form of quizzes which have really boosted the spirits of the wider Fylde community and provided those who are shielding during this difficult time with a much needed social outlet. These are in addition to the daily errands they run to help those in need as part of the South Fylde Group COVID-19 Task Force.
If that wasn't enough, they have run a number of 'doorstep photo shoots' and even though they are professional photographers, they have refused to accept any money. Instead, they have been accepting donations for local foodbanks, feeding over 200 families across the Fylde Coast.
Most people would agree, these are magnificent efforts in these very challenging times with these brothers truly showing the way and demonstrating the qualities we all strive to replicate. South Fylde Group Chairman, John Robbie Porter, was fulsome in his praise, saying that the efforts of these two members showed the true spirit of Freemasonry.