Ridgemont Hall was the delightful setting for the installation of Clive Butterworth at Lever Park Lodge No 8144. The ceremony was watched by Provincial Grand Master Tony Harrison, along with a galaxy of acting Provincial grand officers who were accompanied by a flight of grand officers.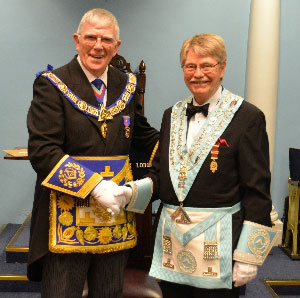 The installing master, Russel Butler, welcomed all the visitors and said that he hoped that they would have an enjoyable evening. Russ then offered the lodge gavel to Tony as is the custom. Tony took it with great delight but returned saying that he didn't want to take the limelight off anyone who was involved in the installation.
What followed was an excellent and heartfelt ceremony performed in a delightful manner. Russ placed Clive into the chair of King Solomon with dignity making it a ceremony that was a delight to watch.
The installing master closed the board of installed masters and invited master Masons, fellow crafts and entered apprentices, in turn, to enter. The third degree tools were presented by Gary Mathews, the second degree tools by Ian English and the first degree tools by Alex Forbes-Maitland. All were performed in a truly excellent manner and were a joy to listen to.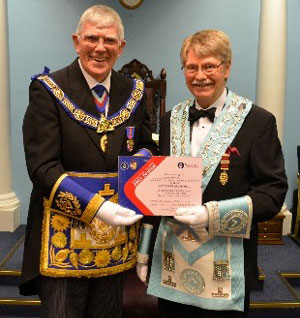 Tony then presented a certificate of patronage to Lever Park Lodge for the Masonic Charitable Foundation 2021 Festival and thanked everyone for their efforts. He also thanked the lodge for the cheques given to charities and said that they all would be thankfully received and faithfully applied.
He went on to congratulate Clive on attaining the chair of King Solomon and said the lodge was in good hands. He also congratulated the brethren who had taken office and commented that they were all were light blues, something not readily seen, so the future of the lodge was looking good.
The festive board was an excellent affair too, with great food, fine wine and good song. Everyone wished Clive and Lever Park Lodge well for the future.