Traditionally at this time of the year many lodges hold their Burns Night supper in celebration of Scotland's national bard, Robert Burns. On this occasion the members of Leyland St Andrew's Lodge 7391, went all out to celebrate this in the most traditional way possible.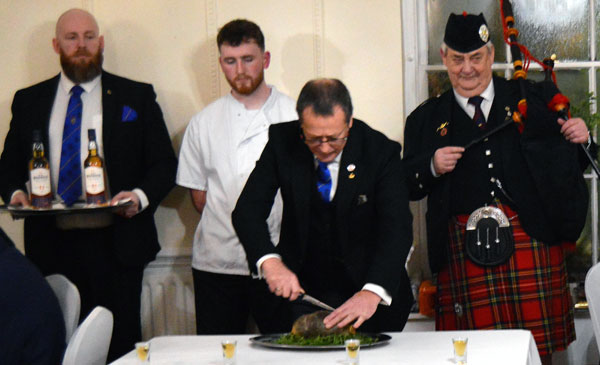 The evening was open to Masons and non-Masons, with around 60 attending, 14 of whom were non-Masons. Before the celebration got underway, the evening started with a short lodge meeting, ably conducted by the officers of the lodge and lead by the WM, Paul Wharton-Hardman.
However, there was no doubt that this evening was all about the festive board. In the beautiful surroundings of Ridgmont House, the Horwich Masonic Hall, all 60 members and their guests were treated to a traditional Burns Night feast.
Everyone present looked forward to a meal that included a hearty five course supper of Cullen skink, haggis, neaps and tatties, braised steak main course, Cranachan dessert, with cheese and oat cake biscuits to finish.
And of course no Burns Night would be complete without the ceremonial piping in and address to the haggis, which was done in fine style by Gordon Maclellan, ably accompanied by piper, Billy Barlow, during which all those present toasted the haggis with a wee dram of fine Scottish water.
The whole evening was a roaring success with a highly respectable amount of money being collected in the raffle for good causes.  At the end everyone present had enjoyed a most enjoyable time.