Lever Park Lodge No 8144 has restarted its meetings with a bang after 18 months of not being able to meet. Its members and guests enjoyed getting together for the installation meeting. It was an excellent ceremony given the circumstances under which it was conducted.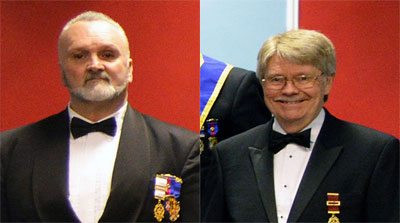 As already mentioned, this was the brethren's first meeting after 18 months and was a 'full' installation of a master Mason, Geoffrey Gorner. As the ceremony progressed, it soon became obvious that all those who took part had put a great deal of hard work and practice in to be able to deliver such a very high standard of ceremony.
Everybody from the young light blues to the seasoned campaigners had certainly knocked off all the dust and cobwebs from their ritual. This did not go unnoticed by Malcolm Dewhurst who was the representative of the Provincial Grand Master Tony Harrison.
Secondly, as the members and guests assembled, they learned of the very sad passing of a valued and enthusiastic member of Lever Pak Lodge, Adrian Butterworth, earlier in the day. Adrian was the brother of the outgoing and installing master Clive Butterworth. This obviously had a profound effect on Clive as well as the other officers and members. It did not in any way detract from the ceremony however as Clive delivered an excellent ceremony under what must have been very sad and difficult circumstances for him personally.
The festive board was very jovial, friendly, relaxed and enjoyable; in fact the usual Level Park style. It was agreed that the proceeds from the raffle would go to the nominated charity of the Butterworth family in memory of Adrian; this was in addition to three donations made during the ceremony to the Hearing Dogs for Deaf People for £100, the Macular Society for £100 and Horwich Masonic Hall for £400.
Chorley Group Chairman Peter Allen said after: "I had a most enjoyable evening at Lever Park Lodge installation. The ceremony was a delight to watch with everyone involved making an excellent job. Special mention has to go to the installing master as his brother had sadly passed away. Despite this he, Clive Butterworth, did an absolute sterling job of installing his successor.