There can be few more familiar faces around the Wigan Group than that of Les Campbell. For decades, Les has graced meetings and installations in lodges and chapters around the group with his undoubted talent as a gifted organist.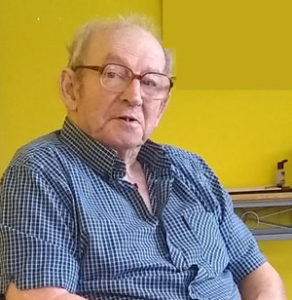 On top of his regular renditions at regular meetings, few will forget the efforts he would go to as officers were invested, He would research the occupation and items of interest of each recipient, and as they were escorted to and from their investiture, he would play relevant, and invariably humorous tunes, bringing smiles to everyone's faces. Les did not only serve the Craft with his considerable talent, honed since he begun lessons at the age of 17 from the church organist at St Stephen's Parish Church in Whelley, but also his community.
Over the past years he has played in most of the local churches in the Upholland and Billinge areas, and for 10 years been a regular organist at St Aiden's, Billinge, Upholland Parish Church, St Thomas the Martyr and St Teresa's Church in Upholland
But there is more to Les than his organ playing. Much, much more. A local boy, Les was born in Wigan in 1935. Always mad keen on football, Les became a well-known footballer who played on the left wing for Preston North End, at the time when Tom Finney was the local hero in Preston. Les also played for Blackpool, with Stanley Matthews and later at Tranmere Rovers.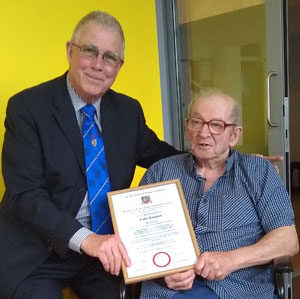 He started his career with Wigan Athletic, making five appearances in the Lancashire Combination before turning professional and joining Preston North End in 1953. Whilst pursuing his football career Les served two years National Service in the RAF (perhaps not so surprising as he was a natural wing man) and, thinking ahead to when his football career ended, he began an apprenticeship as an electrician, which became his full-time employment after retiring from football in 1970.
In Freemasonry, Les was initiated in Hindley Lodge No 4020 in February 1969 and became WM in 1980. He received his first Provincial appointment as PPrSGD, promotion to PPrGSuptWks and finally to the very high rank of PPrJGW in 2013. It seems very appropriate that on each occasion he returned to Preston, to the Guild Hall, to receive his honours. Unfortunately, Hindley Lodge handed in its warrant in 2003 and Les joined Up Holland Lodge No 8608 which was incorporated in 2009 into Orrell Lodge No 8371 and is still a member.
In the Royal Arch, Les was a member of Chapter of Harmony No 178 and served as first principal in 1989. He continued to serve the chapter until his resignation in March 1993.
A jubilee celebration was planned, but due to failing health, it became obvious that he would not be able to attend. It was agreed by all that this special anniversary for this worthy Mason should not pass by without the proper commemoration. Geoffrey Porter, the Wigan Group Chairman, attended as a special guest of the lodge, and paid tribute to Les in his absence.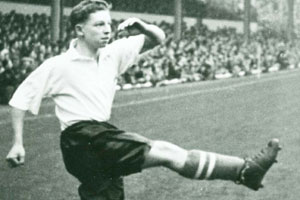 As is the custom on such events, Geoffrey read out the special celebratory certificate awarded by the PrGM Tony Harrison. Following the meeting, and on the anniversary of Les's initiation, it was with great pleasure that Geoffrey, accompanied the lodge almoner and other members, visited Les to congratulate him on his remarkable achievement and personally present his certificate.
Les was absolutely delighted to see Geoffrey and the brethren. Unfortunately, his health has not been at its best in recent years, and he has had to curtail many of his activities. He was, however, in fine form to enjoy a good 'natter' and much friendly banter was shared before he received his certificate with much joy and satisfaction.
A gifted and talented sportsman, musician and Mason who always kept his eye on the ball, Les is respected by all who he came across, and the recognition of his dedication and service is thoroughly well deserved.