The brethren of Mersey Lodge No 5199, with their guests, gathered at the Ormskirk Masonic Hall, to witness the installation of Les Donnell as their new WM. It's the second time that Les has been WM of Mersey Lodge, the first time was 32 years ago!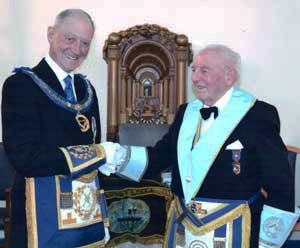 For the evening's ceremony the lodge was honoured by the presence of Assistant Provincial Grand Master Barry Jameson. Barry was accompanied by the Ormskirk and Bootle Group Chairman Graham Chambers, Ormskirk and Bootle Group Vice Chairman Malcolm Alexander and acting Provincial grand officers Alan Brown, Richard Gillett and Chris Taylor.
The meeting commenced with the outgoing WM William Knibb, warmly welcoming the brethren and the visitors to the lodge, and Edward Harrison on joining the lodge. Once the initial lodge business had been completed, the lodges DC Stephen Andrews announced that Barry Jameson was without and demanded admission; Barry was then admitted into the temple accompanied by the grand and acting Provincial grand officers. William then warmly welcomed Barry to the ceremony and offered him the gavel of the lodge, which Barry gracefully declined.
The master elect, Les Donnell was then presented to the lodge by Paul Kay and Richard Nelson, and after Les had taken his obligation William installed him into the chair of King Solomon according to ancient custom.
The working tools in all three degrees were presented in an excellent and proficient manner by Peter Blazey and once the lodge's officers had been invested, the address to the WM was given by Peter, followed by the address to the wardens by Les Donnell and the address to the brethren of the lodge by Barry Jameson.
At the end the ceremony of installation, Barry addressed the brethren by bringing congratulations from the Provincial Grand Master Tony Harrison, wishing Les and all the brethren the very best of health and hoping they have a happy Masonic year. He congratulated William for the excellent manner in which he had installed Les into the chair and proceeded to congratulate all the brethren who had taken part in the ceremony.
The ceremony now being completed, Les had the privilege to present to Barry, on behalf of the lodge, two cheques, £300 for the 2021 Festival and £100 to the Ormskirk Masonic Hall. On behalf of the recipients, Barry thanked the lodge members for their very kind and generous donations.
After closing the lodge in prayer and harmony the brethren made their way to the festive board, during which a raffle was held raising £160 which will be donated to Masonic charities at a later date