It is widely acknowledged that a 50th anniversary is a fairly rare occurrence in Freemasonry or indeed any organisation. When that jubilee is on the verge of a 99th birthday as well, it's most certainly a cause for celebrations a-plenty.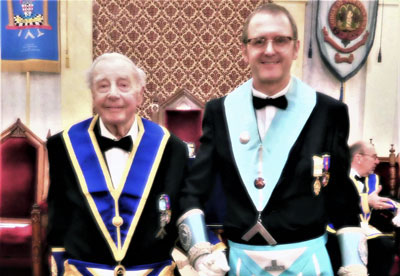 Ulverston Lodge 7872 recently held such a celebration in honour of William Leslie Preston, (known as Les and one of two called Les Preston's among its ranks, unrelated to each other). WM Craig McNicol opened the lodge and kindly offered the gavel to Assistant Provincial Grand Master Peter Schofield, who on this occasion accepted his offer. Some 50 other brethren were also in the lodge to see the spectacle and hear the story of celebrant Les's life in and out of Masonry.
After Les was relieved of his duties as organist and presented to Peter in a place of honour on the floor of the lodge, Peter began to outline Les's early days. One might be tempted to think that a gentleman who'd only lived permanently in two addresses in his home town, had led a sedate life. Far from it. Les has managed to cram in an apprenticeship as an electrician, service as both an Air Crew Radio Operator, flying in Lancaster Bombers, then retraining as an HGV driver in the RAF during the war. He worked as a retained Fire Officer, eventually rising to the rank of Officer in Charge of the station.
Les was admitted, poor and penniless, at Kings Road, Ulverston, and initiated on 8 January 1973. He was passed on 11 June and raised to the degree of a master Mason on 10 December of the same year. He was installed into the chair of King Solomon on 9April 1984 by John Hannah.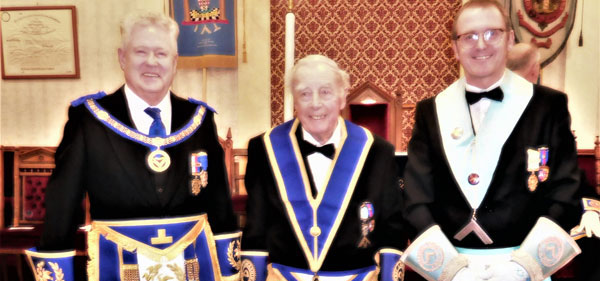 A founding member of Lonsdale Lodge of Installed Masters No 9422, Les has provided musical accompaniment for that lodge as well as Ulverston Lodge and several others for many years. He is self-taught and playing by ear as a non-reader of music, his efforts lend an air of joy and completion to every ceremony. He was appointed to the rank of Past Provincial Senior Grand Deacon in 1990 and received a promotion to Past Provincial Grand Superintendent of Works in 2008. 
After many visits while on holidays with family, Les was made an honorary member of Atlanta Lodge No 59 in the Constitution of Georgia in the USA. He is a companion of the Royal Arch and a member of two other Masonic Order in which he has achieved high ranks.
In the words of a senior member of the lodge: "Les is considered a stalwart of Ulverston Lodge and his hard work and dedication over many years have gained him the respect of all the brethren." So much so that in recognition of his commitment and dedication the members of his lodge made him an honorary member in 2015.
Les has had a magnificent and outstanding professional and Masonic career and can feel justifiably proud of all his life long achievements. His story demonstrates considerable commitment to Freemasonry, a fine example to all brethren.