Temperance Royal Arch Chapter No 2714 started their Masonic season with the most delightful event in the calendar, a celebration of a golden jubilee for one of their own. The charter to form the chapter was issued 110 years ago in 1908 and during that period has seen many events take place within its meetings. The 50th celebration held for Leslie Cairns will now rank amongst those treasured memories of the chapter.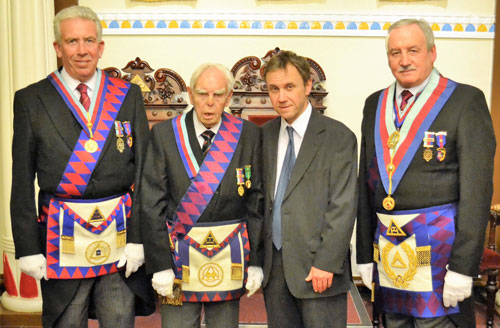 The meeting was opened in due form and ceremonial by Jeffrey Hodge, ably assisted by co-principals James Molloy and Brian Hughes, all under the careful directorship of the now honorary member John Jackson. In attendance where Assistant to the Provincial Grand Principals Sam Robinson and Chairman of Liverpool Group Mark Matthews.
Although a pleasurable evening was awaiting the companions, it commenced in sombre mood, with all standing in respect to departed merit for Steve Hartley. All agreed with the sentiments spoken, that Steve would always be remembered with fondness as a hard-working good family man, well liked, respected and valued. With the conclusion of the business agenda, Jeff invited Sam Robinson to occupy the chair of first principal and lead the celebration marking 50 years of service in and to Temperance Chapter achieved by Leslie Wallace Cairns.
Sam thanked the chapter for allowing him to occupy the chair of Temperance Chapter, for what is a very special occasion. He commenced by saying that the good number of companions present reflects the love, esteem, respect and admiration all share for our celebrant. Sam reminded all present that he hoped the delivery of his address to Les would meet with their approval, if it did then that would prove to be excellent. Adding, with tongue in cheek, if it didn't, then it was produced by Kevin Poynton.
Sam then requested John Jackson to kindly place Les before him for the next few minutes. With Les sitting comfortably, Sam began by explaining that when he first began to think about what to say on the evening, he began by perusing the Oxford dictionary which gave several words associated with a celebration. Most notable amongst these were a trilogy of definitions, consisting of 'festive behaviour', 'making widely known' and finally to 'praising a well-known person'.
Les was born at Preston on 8 September 1928, where his father Arthur worked as a steam locomotive driver, a very skilled profession in those days. 1928 was significant for a number of reasons, it was a 'leap year' and Amsterdam had in July and August, hosted the Olympic games, both events happening in four-year cycles and this was the eighth occurrence of the modern games. Other significant events took place, including aviator Amelia Earhart becoming the first woman to fly solo across the Atlantic and it was the first year of the Academy Awards, more familiarly known today as the Oscars.
Locally in 1928, Frank Abelson was born in Liverpool, later to become known as popular singer and showman Frankie Vaughan, who had first sung in the dance band while attending the Lancaster College of Art. On 25 September there was a huge celebration in the city centre when the city was 'wedded to the sea'. This was based on an old Venetian custom, the ceremony saw a parade of eminent worthies of the city make their way from the Town Hall to the Pier Head, where they were joined by working and retired seamen, shipping company representatives and a choir of 300 children. After some suitable words from Sir Archibald Savidge and the Lord Mayor, a ring was thrown into the sea to mark the union of town and tide.
In the world of football, two extremely rare events occurred within the city, Everton won the Championship of the 1927/28 season and at the start of the new season beat Liverpool 1 – 0 on 28 September 1928. Sam added that this of course held absolutely no interest for Les, firstly because he has no recollection of the year and later as a young lad he had, at that time, an even better team to support, his local Preston North End. Les attended the Deepdale School only yards from the Preston football ground, but following the death of his father, he moved with his mother Dulcie, to Blackpool to be near to her family. Here Les continued his education at Claremont School, which he then left age 14, a normal practice in those days.
Les's first job was helping out in a hospital which led to him becoming a nurse at 18, and this later saw him move to Newsham Hospital in Liverpool, which necessitated him working 13-hour night shifts. After finishing his shift, he would often go to the newly opened New Brighton Baths on the Wirral, on one occasion he was there when the first fatality happened, a man died after diving off the high board. Sam here mentioned, that he also used to visit this extremely popular venue and remembered those diving boards were terrifying.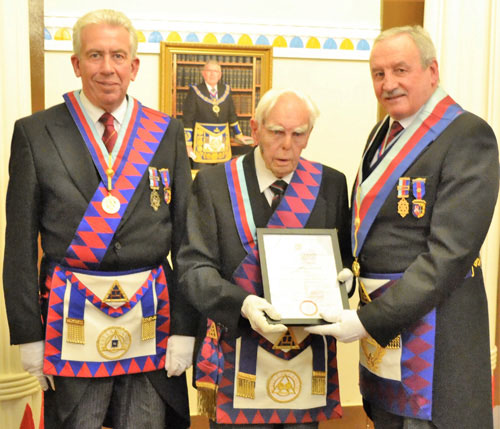 It was not long before Les found romance and married his girlfriend Helen, at the tender age of 20. Les and Helen took a flat while saving for their first home and son David was born in 1963. This happy event was tinged with sadness, as this was also the year when Les's much loved mother Dulcie died. David went on to study at university, obtaining an honours degree and after teaching for 25 years moved into the civil service. David is a devoted son and checks up on his dad every day and of course, as he always does, has brought Les along tonight.
Moving back to Les's career, he continued nursing until he was 36, when he decided a change of direction was needed to increase his earnings so he joined Yorkshire Imperial Metals in Kirby as an inspector of copper tubing, apparently, as he says, because he was good at counting. Les was still looking for a better future, so he bought what was called an Insurance Book with the Co-Operative Insurance Society and it was not long before Les was promoted to a salaried post as a training officer, eventually retiring at 65.
Les's hobbies and interests from his school days were football, cricket and cycling, all very healthy pastimes and recalled a family holiday in Spain. The family hired a quad bike for a trip out, this was not the modern motorised version of today. This one contained pedals and chains and he always knew where Helen was, laughing and giggling at the back with David, because neither of them were peddling and poor Les was doing all the work. A very fond but poignant memory as sadly Helen died in January 2010.
Following on from the 'Summer of Love' of the previous year, 1968 saw The Beatles releasing their now seminal 'White Album', the first Isle of Wight festival took place and the controversial musical 'Hair' opened in a London West End theatre. A newly formed rock band played to a small audience of students at Manchester and went on to enjoy a modicum of success for some time as Led Zeppelin. Without doubt though, the cultural highlight of that year happened in Liverpool.
It was here that Sam paused, while the scribe Bob Gibson read the minutes for the meeting of 17 September 1968, which recorded the moment Leslie Wallace Cairns was exalted into Temperance Chapter. Apart from Les, in those minutes two other names caught the attention, Bill Merry, first principal of the chapter in 1970 and 2014 and Sir Knowles Edge, Provincial Grand Master from 1968 to1981. Les himself progressed through the chapter offices, eventually becoming first principal in 1981, with his first Provincial appointment to the rank of Past Provincial Grand Sojourner in 1989, with promotion in 2002 to his current rank of Past Provincial Grand Scribe Nehemiah. Today Les is the treasurer to the lodge, a position he took up in 2015.
Sam Robinson then called upon Mark Mathews to read the anniversary certificate from the Grand Superintendent, after which Sam left his chair and came to present Les with the certificate to rapturous applause. On resuming the chair, Sam addressed the companions saying: "Companions that concludes my delivery. Jeffrey and companions of Temperance Chapter I thank you again for allowing me to occupy the chair, but I now think it is time you resumed your rightful place."
With the conclusion of the event within the room, all moved to the adjoining banquet room to continue the celebration. The usual bonhomie was much in evidence around the festive board, with Sam reiterating on how the experience of the evening had been an absolute privilege and pleasure to be part of. Of course, the main toast of the evening was to the celebrant Leslie Wallace Cairns, which led to a rousing rendition of 'happy birthday' as only a few days earlier Les had celebrated reaching the age of 90. Following this came a toast to his son David, in thanks and honour to the manner of which he looks after dad Les and bringing him to each meeting.