When WM Alf Short opened the Lodge of Faith No 484, it was with the knowledge that the meeting was to be something special. Not only for the lodge which was to be presented with an excellent oration by Bob Duff but also by the presence of John Selley, Bryn Hall Chairman and newly appointed Chairman of Wigan Group.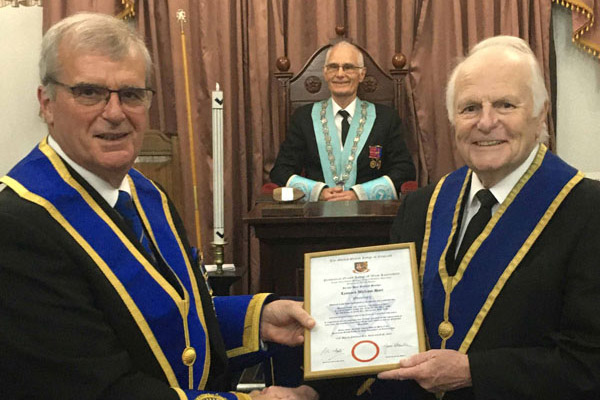 John was attending to award Len Hart with a certificate from the Provincial Grand Master Tony Harrison on the occasion of his 50th anniversary in Freemasonry and the lodge room was filled with Masonic friends from around the province who had come to witness this very special evening.
Bob Duff took the floor first from the south presenting two papers. The first, entitled, 'Remember me?', reminded us that we should take a new brother under our wing and not gather in exclusive cliques in either the lodge room or the festive board. Too many members are lost in the first two years because those of us with perhaps a not so bold personality are left out of proceedings and not included. The second presentation by Bob was a long a similar theme entitled, 'I left and I returned', and left all in the lodge room with a deal to reflect upon during the summer break.
When John Selley took the floor, it was to welcome Len Hart, the lodge secretary for many years onto the Masonic pavement and relax a while in a comfortable chair whilst he laid out for all in attendance, Len's personal and Masonic career in some detail.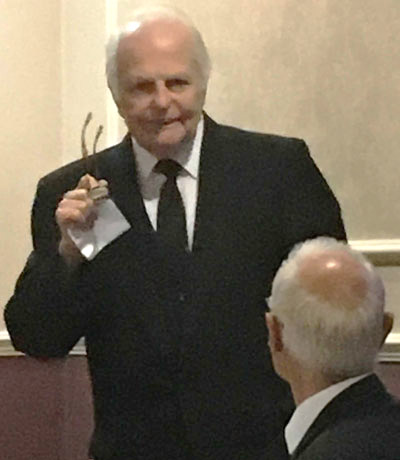 John reminded the congregated Masons that the brethren were there to celebrate 50 years of Freemasonry and he started by talking about the price of things 50 years ago, the cost of beer was at 10p a pint, a 3-bedroom house £3,500 and petrol at 80p a gallon, not litre, were just to mention a few.
Len sat quietly, desperate to jump in while John reminded the room that Len was born in March 1947 and had been educated at Hindley and Abram Grammar School from 1958 to 1964 before going on to the then Wigan Mining Technical College from 1964 to 1968.
Len had started his working career at GKN, in the steel industry and he worked for them for approximately nine years. Len was married to Mary in 1970 and John congratulated Len on achieving 52 years of married life. That is also something worth celebrating. They have two children Robert and Richard and have 2 granddaughters, Chantelle and Macey and a grandson call Leo.
When he left the steel industry Len worked for Barber Textiles which involved a fair amount of travelling, and for a considerable period of time he worked in Northern Ireland during the troubles, particularly during the bombings. After a period of time working for them, he became self-employed in the business of printing textile labels which he did for approximately 10 years before retiring at the age of 63 due to health issues.
John then reminded the brethren of the many interests that Len had pursued over the years. Since 1961 he has been and continues to be a keen supporter of the Halle Concerts Society and he is also a keen fly fisherman when time allows
Len was chairman and founder of Hindley St Peter's Parent Teachers Association, from 1982 to1988. He has been secretary of both the River Hodder and the River Lune Consultative council. He was a founder of Pennygate Medical Centre in 2010 and is still working with them today.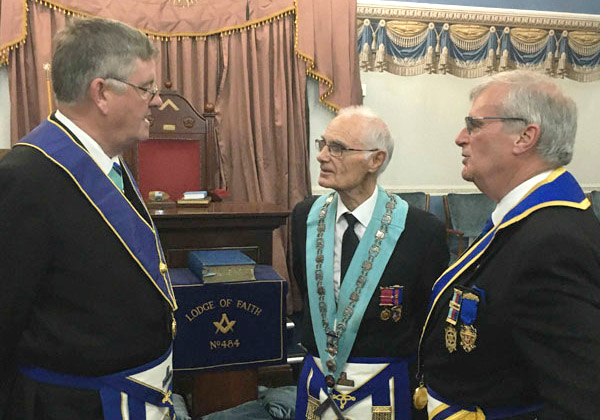 In Craft, Len was initiated into Hindley Lodge No 4020 on 17 February 1972 by his father. He was passed on 21 December 1972 and was raised on 15 March 1973 and he has held the offices of almoner and secretary before becoming WM in October 1983.
In Royal Arch, Len was exalted in February 1985 when he joined Corinthian Chapter No 2350.  By February 1994 he had joined Amadeus Lodge No 9539 in the Province of Derbyshire as founder senior warden and became their second WM the following year and Treasurer from 2009 to 2012. Len has since been made an honorary member of that lodge. During this period, he joined Crawford Lodge and was almoner for a number of years. Unfortunately, the lodge was erased in 2007.
On 6 May 2008 Len joined this the Lodge of Faith and has been its secretary since December 2012. Len has not only received a number of Provincial Ranks in the Province West Lancashire but also in the Province of Derbyshire. He was first appointed to PPJGD in the Province West Lancashire in May 1991, before his appointment to PPSGD in the Province of Derbyshire in January 1996. Promotion followed to PPGSuptWks in West Lancashire in October 2003 and then also promoted to PPGSuptWks in Derbyshire in April 2006. Further promotion came in the form of PPrJGW in West Lancashire in October 2012, followed in Derbyshire by promotion to PPGReg in April 2013.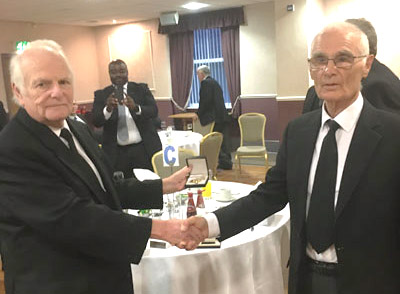 By now Len was really wanting to join in, but John reminded Len of his involvement in the Wigan Masonic Bowling League from 1989 to 2022 as secretary and treasurer, work which he continues to carry out, giving advice and support to John Walters the new secretary. Len has also been the treasurer of the West Lancashire Bowling association since 1994.
John thanked Len on behalf of the group for all the work that he had carried out including the Wigan Masonic year book which you took on in the early 1990's. John then read the certificate to Len, making special mention to the fact that it was sealed and signed by the ProvGM personally.
John requested Alf Short to present the certificate to Len Hart PPJGW of the Province of West Lancashire on achieving 50 years in Freemasonry. As the brethren retired from the lodge, the group chairman and Len Hart were at the front, arm in arm and looking forward to the festive board to come.
By Ian K Dawson, Wigan Group Publicity Officer.