A Leigh Group Gala Dinner was held to celebrate, recognize and thank three Leigh stalwarts and their very supportive partners, for their contributions to the Leigh Group in particular and Freemasonry in general.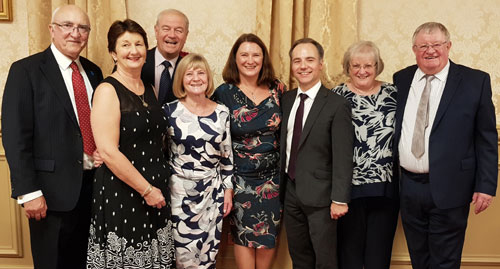 Between the three of them; Anthony Bent, former Assistant Provincial Grand Master and Leigh Group Chairman; Len Hart, former Leigh Group Chairman and Joe Hine, former Leigh Group Vice Chairman, have looked after the affairs of the Leigh Group for the past 25 years.
During his tenure as APrGM, Tony was a faithful and active servant of the Province of West Lancashire as a whole, served on several Provincial committees and served latterly, as chairman of the Tercentenary Committee, which he set up to coordinate West Lancashire's celebration of the 300th anniversary in 2017, of the formation of Grand Lodge. Those celebrations having taken 2 years to plan, proved a great success and culminated in the Tercentenary Gala Dinner, held in Blackpool in November of last year.
Len is a keen bowler and has served and actually continues to serve in the office of group bowling representative, a post he has held seemingly forever – so long that our records didn't tell us when he took up the office and Len can't remember either, but it is at least 30 years. Amongst all of that, he then even found time to win the Provincial Bowling Tournament in the summer of 2017 – it was well deserved and not before time though, he had played in it all the other years!
Joe served as the Leigh representative as master of Mersey Valley Lodge of Installed Masters No 9057 in 2008, a task which only two people from the Leigh Group have held and requires a good head for Masonic ritual. Joe is also involved and held in very high regard in several other Masonic Orders assembled at Leigh.
The celebratory evening, organized by the recently appointed Leigh Group Chairman Jonathan Heaton and accompanied by APrGM David Ogden, was a roaring success as almost 100 brethren and their partners gathered to celebrate and thank the trio all for their service to the Leigh Group.
Jonathan's toast summed it all up: "These three men, ladies and brethren, whom I am genuinely proud to regard as my friends, have as you have heard, served this group with distinction for varying, but each very significant numbers of years, they have been dedicated to their posts, they have given their time freely, willingly and without restraint and I must add, they have been fortunate in doing so to have the full support of their wives, the toast is Tony and Lynda, Len and Eileen, Joe and Angela."