For the past three years the Leigh Group has provided support to the local foodbank in the form of food donations and other essential personal or household items.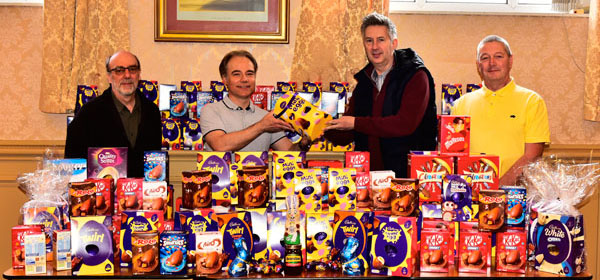 Atherton and Leigh foodbank first opened in 2013 and have been assisting local people since that time, last year supplying over 49,000 meals to people in the locality. This year, with the widely recognized pressure on family budgets, the Leigh Group thought that it would be appropriate to further support those struggling families. Not with food as such, but with an Easter egg donation that would hopefully bring a smile and a chocolate covered face to some of the children in the area.
Members of the lodges, chapters and visitors to the festive boards have over the last two weeks sent in dozens of eggs for the appeal, resulting in the Leigh Group being able to donate 166 eggs to the foodbank.
The eggs were gratefully received, and the recipient commented, "Always ready to support their community, the brilliant members of Leigh Masonic Hall have once again stepped up to provide a huge 166 Easter eggs for people in need of that support. A little thing like an Easter egg makes such a difference. Thank you so much."