What a great evening for all at this annual event at the Ellesmere Suite in Leigh, West Lancashire with an attendance of almost 60 members.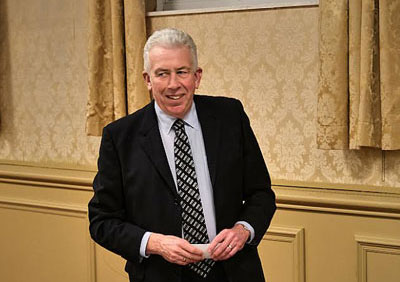 The principal guest was the Provincial Grand Master Mark Matthews, who was accompanied by Provincial Grand Secretary Peter Taylor, Assistant Provincial Grand Master David Ogden, Assistant to the Provincial Grand Principals Malcolm Alexander, Past Assistant Provincial Grand Master Tony Bent, Provincial Senior Grand Warden Christopher Taylor, Provincial Junior Grand Warden Sylvester During, Provincial Grand Director of Ceremonies Malcolm Bell and Provincial Deputy Grand Director of Ceremonies Malcolm Gary Smith.
Garry Jones started the introduction with the history of the ProvGM Mark Matthews and how he became into this esteemed position that he holds today in Freemasonry. Garry then proposed the toast to the health of Mark, of which Mark responded and thanked Garry for all his hard work as WM in the Lodge of Truth No 6235.
Mark also thanked the rest of the Provincial team for helping to make the day a smooth running and successful occasion, he also stressed upon the importance of the Royal Arch and introducing new members to it.
Christopher Taylor thanked the Leigh Group Chairman Jonathan Heaton on behalf of his brother warden Sylvester During, the acting Provincial grand officers and guests, and to the brethren and companions for the hospitality they had received and added that that were enjoying excellent food and service. Christopher then mentioned that the hall chairman Len Speakman, who through illness, was not in attendance. Credit was given to hall secretary Phil Spencer and the directors of the Leigh Group and Dr David Case, group vice chairman for arranging the dinner.

Next, Christopher was proud to announce the names those brethren and who had received their promotions, not forgetting Garry Bryon, group secretary, for all his hard work behind the scenes throughout the year and other members who contributed to the smooth running of the group business.
The group chairman Jonathan Heaton finally explained the amount of progress that has been made throughout the year by supporting various charities. He was also pleased to announce the group had increased its membership by the way of recommending friends and family members to Freemasonry and how beneficial the Pathway System has been in providing the group with a reasonable amount of new younger brethren.
At the end of the evening, Mark Matthews and David Ogden were each presented with a bouquet of flowers. An excellent and enjoyable evening was had by all.