Lee Procter was installed as WM of Duke of Lancaster Lodge No 1353 in the presence of Provincial Grand Master Mark Matthews. Mark was accompanied by Assistant Provincial Grand Master Peter Schofield, Malcolm Bell Provincial Grand Director of Ceremonies, grand officers John Robson, Peter Mason and Neil McGill Chairman of the Lancaster Group and Ryan Modlin Provincial Deputy Grand Director of Ceremonies.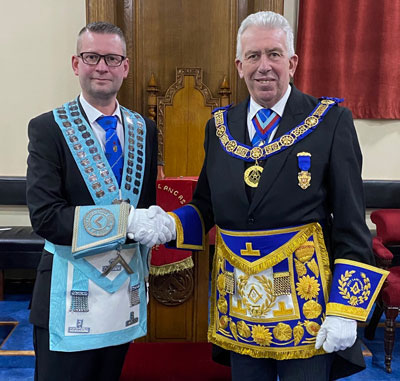 Lancaster Group Vice Chairman Scott Devine and group secretary Chris Larder were also present. Acting provincial grand officers in attendance were Provincial Senior Grand Warden Chris Taylor; Provincial Junior Grand Warden Sylvester During; Provincial Junior Grand Deacons Dave Shaw and Alfred Dickinson, Provincial Grand Standard Bearers Tim Gill and Richard McHale, Provincial Grand Stewards Matt Kneale and Mark Little.
Lee was presented as master elect by the lodge junior warden Bob Tyson. The ceremony was conducted by installing WM Nigel Parrish. The installing officers were senior warden Chris Taylor, junior warden Sylvester During and inner guard Ian Kennon.
The working tools of a WM were presented by Bob Tyson. The third degree working tools were presented by Adrian Gifford, the second working degree tools by Bob Tyson and first degree working tools by Phil Irving. The WM appointed Bob Tyson as senior warden and Phil Irving as junior warden.
The address to the master was given by Ian Kennon, that to the wardens by Adrian Gifford and that to the brethren of Duke of Lancaster Lodge by Alan Physick.
Mark Matthews was presented with a list of donations made to Masonic and non-Masonic charities that had been given by the lodge over the past year to the value of £3,862 which included a £1,000 cheque presented by immediate past master Nigel to his chosen charity North West Blood Bikes.
The organist was David Tattersall and the master's song was performed by Nigel Parrish. A total of 51 brethren attended the festive board. The toast to the WM was given by Nigel Parrish.
Lee Procter was born in March 1977 at Burnley General Hospital. He is the first of three sons born to Michael and Nora Procter. He has a partner Sharon who is now his fiancé and they have two daughters Freya 13 and Niamh who is 10.

Lee was educated at Primet High School in Colne from 1988 to 1993 and studied for a GNVQ in advanced business studies from 1993 to 1995 passing with a distinction. Lee studied marketing at the University of Teesside and graduated with a BA Honours degree level 2, commonly known as a 'drinkers degree'.
After graduating from university in 1999, Lee moved from Colne to Lancaster where he commenced employment with Lancaster Fastener Co Ltd as the Marketing Manager. This company is an importer and distributor of industrial threaded fasteners and exports its products to over 50 countries worldwide.
Lee enjoys spending time with his family, walking in the Lake District and cooking with a glass or two of wine on the go. He is passionate about listening to music and despite attempting to learn to play the guitar never got past a few standard chord changes.
Being brought up living next to a golf course and from the age of eight until he left home for university, Lee used to spend every waking moment on the golf course and enjoyed a handicap of nine. Regrettably, since leaving university Lee has not been able to play although now that his daughters prefer to spend time with friends, he hopes to dust off the clubs and resume playing again.
An introduction into Freemasonry for Lee came by the late Steve Stanley and he joined Duke of Lancaster Lodge in 2015. He is looking forward to his year in office as master of the lodge.