Brethren and guests of Anfield Lodge No 2215 which meets at the Geoffrey Hirst Masonic Suite within Woolton Golf Club assembled to witness an initiation ceremony. In the absence of the WM, Alan Ledger occupied the chair and opened the lodge in the first degree. As AProvGM Andrew Whittle was present, Alan tried to tempt him with the gavel which was refused and returned it to Alan.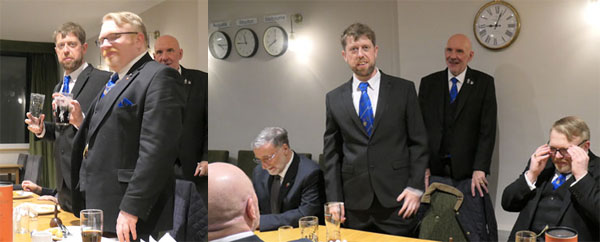 Alan welcomed everyone to the meeting and quickly despatched the usual opening business. A ballot was then taken for two re-joining members which proved in favour and the two brethren were admitted. They were welcomed by Alan and they took their seats in the lodge.
The candidate for initiation, Lee Powell, was announced and duly admitted accompanied by the junior deacon Matthew Parkinson and the senior deacon. Lee answered the usual questions and took his obligation and was initiated in an excellent manner by Alan Ledger. The first degree working tools were presented by the junior warden Stephen Lyon and the ancient charge was wonderfully delivered by Stan Dawkins.
Alan Ledger informed Lee that the ceremony was completed and requested that he retire to restore himself to his former comforts. On his return to the lodge, Lee was congratulated by Alan and Lee was then presented with his white gloves by Andrew Whittle. After all the business of the lodge had been completed, Alan closed it in due form so that the brethren could retire to the festive board.
The song to the initiate was sung by Chris Lyon and Stephen Lyon, with the brethren joining for the chorus. In proposing the toast to Lee, Alan said that it had been a real pleasure to initiate him as Alan had been his proposer into the lodge.
Lee has been employed in various capacities throughout his career, including that of a police officer and was now self-employed. In his response, Lee thanked the lodge for accepting him saying that he had enjoyed the evening and looked forward to being a member of Anfield Lodge.
Story and pictures by Colin Roberts.