Emblem Lodge No 6727 had gathered and its several parts were assembled in their right places, impeccably dressed and looking fit to go to a garden party at Buckingham Palace, whilst the lodge room oozed a general atmosphere of leisured cosiness.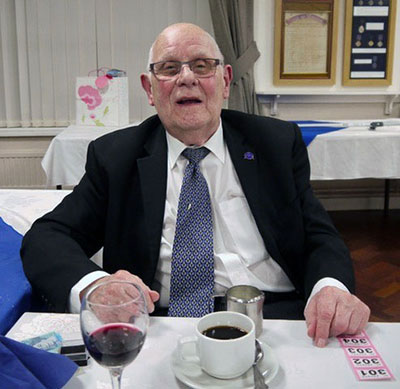 The master, Robert Marsden, opened proceedings with dignity and efficiency and quickly dispensed with the general business of the lodge before announcing the primary gem on the evening's agenda; the celebration of Laurie McCornick's 50 years in Freemasonry.
Modest and humble to the core, Laurie had requested a low-key affair; no trumpet fanfare; no pomp and no red carpet stuff for Laurie. He just wanted what he has always valued most – a regular lodge meeting amidst good friends and colleagues. But in the case of a chappie of really fine fibre like Laurie, those who know him well would discern that the celebration promised to be a peach of an evening.
To kick the festivity into high gear, Robert relinquished the master's chair to prominent lodge member and Blackpool Group Chairman designate Stephen Jelly who bobbed up merry and bright, obviously delighted at the opportunity of sharing in Laurie's revelries.
Articulately and respectfully, whilst at the same time maintaining a warm, informal and joyous manner, Steve related Laurie's life through childhood, his working profession and his Masonic career.
Born in Edgeware, Middlesex in June 1941 to Janet and John McCornick, Laurie's mother was housekeeper to a head chef at the Savoy Hotel, London and his father was a Regimental Sergeant Major in the Military Police and British Transport Police. Early life for Laurie was not easy. In fact, times were difficult. His father, as an RSM, ran the home as he did his regiment; with strict rules to follow. He had plans for Laurie from a very early age. His plot was that Laurie would join the Army and become a bandsman. To this end, at the tender age of 10, Laurie was presented with a set of bagpipes and lessons were arranged with Pipe Major Charlie Turnbull.
Major Charlie taught Laurie to competition standard and he travelled all over the country competing, as well as blasting it out at social occasions. Charlie enrolled him in the London Scottish Pipe Band and in 1956 in Edinburgh; his playing was so exceptional that he won the Junior World Championship. This accolade earned Laurie the honour of playing bagpipes for the Queen Mother at Clarence House on three separate occasions.
When Laurie was 14, the family moved to a council house in Harrow. The local education regulations at the time prevented him from attending the local grammar school, unless his parents paid the bus fare. They refused. So, Laurie had to attend the local mixed secondary modern school close by. He hated his time there and as a result his attendance suffered. He loved sports however, especially football. His favourite school subject was metalwork, in which he was always top of the class by making beautiful copper fruit bowls.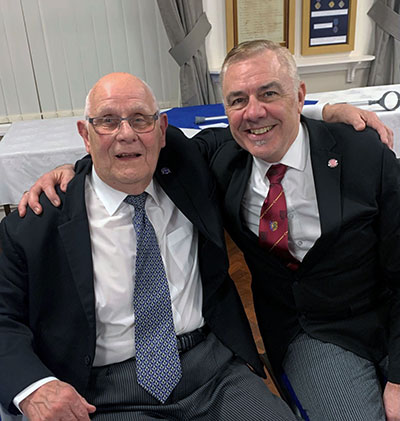 A couple of years later, as soon as he was able, he left home. Laurie told his father that he was no longer under his control, returned the bagpipes to him and went to live with his aunt. His elder brother Tony, who sadly passed away in 2021, had also left home at the age of 16 and had joined the Merchant Navy.
In 1957 Laurie got a job with Kodak as a camera mechanic before joining the Metropolitan Police a year later. He was to spend 27 happy years in uniform as a Police Constable. Further on in the evening's proceedings, Laurie treated the group to a glimpse into some of the spine-tingling exploits that he encountered during his years.in the Metropolitan Police. But more of that later!
.
While an in-patient at the Royal Free Hospital, London in 1963, Laurie met his future wife Liz, a nurse on the ward. After meeting Liz, he didn't shilly-shally. In the same year he bought his first house in Enfield, North London, on a 100% mortgage granted for reserved occupations by the Greater London Council. Being in a reserved occupation, namely the Metropolitan Police, meant that he didn't have to serve National Service.
Laurie and Liz were married on 17 October 1964. Liz, during her distinguished career has held positions in nursing; having been a district nursing sister, ward sister, sister at Trinity Hospice, sister and secretary to consultants at the North London, Nuffield Hospital and also gave up her free time to be a Samaritan in Blackpool.
It was in 1970 when Laurie purchased a VW camper van and a second-hand caravan. His passion for caravanning lasted for almost 50 years and he and Liz used every opportunity to strike out for weekends away.
In 1982, whilst on his way to work with the Metropolitan Police Laurie was severely injured by a circus horse. In 1984 Margaret Thatcher, the then prime minister, reduced the number of police officers in the Metropolitan Police by retiring all those with a registered injury and Laurie retired from the police force. On a brighter side however, in the same year he saw the light, found the M6, and moved 'up north' to Fleetwood where they have lived happily ever since.
Laurie worked at Fleetwood Magistrates Court in 1985 before starting his own business as an insurance and private investigator and court bailiff. That lasted until 1995 when a triple-bypass heart operation curtailed such activities. Since then, Laurie and Liz have enjoyed their retirement together.
Laurie's Masonic career was launched when he met his father-in-law Thomas William Walker Robinson Christie. His influence as a Freemason encouraged Laurie to join the Craft. Thomas proposed Laurie and his brother Ernest Robinson Christie seconded him. He was interviewed, or in his words 'grilled' for a full hour in December 1972 and on 8 April 1972 he was initiated into Peregrinus Lodge No 6501 at the Great Western Royal in Paddington. And so began Laurie's Masonic journey. He was passed on 2 April 1973 and raised on 6 December 1973.
Laurie's father-in-law was privileged to install him into the chair of King Solomon in 1979. He sang the 'master's song' at Laurie's installation and in the same year sang the 'ladies' song' to his daughter at their Ladies Evening.
Due to travelling difficulties, Laurie resigned from Peregrinus Lodge in June 2014. But since his move 'up north' he has been a member of several lodges in the Blackpool Group; notably Lodge of Fidelity, (sadly no longer in existence) and Ashlar Lodge No 5154 where he served as treasurer for a couple of years; Blackpool Lodge of Loyalty No 7332, (also no longer in existence) where he had two spells as secretary, spilt by being the WM in 1997.
Laurie's conscientious work brought him his first Metropolitan London Grand Rank in 1996; West Lancashire Provincial recognition in 2006 with an appointment to Past Provincial Senior Grand Deacon; followed by a promotion to Senior London Grand Rank in 2010 and then promoted in West Lancashire to Past Provincial Grand Superintendent of Works in 2012.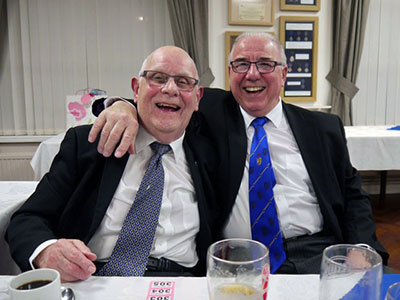 Then in January 2015 he found Emblem Lodge; was proposed by lodge secretary Tom Inman and seconded by Stephen Jelly (yes, the very one conducting the celebrations). Steve proudly announced: "Laurie had brought many skills learned throughout his career to the lodge and has stepped into any office where he could, sometimes at short notice and without any hesitation. The lodge has been proud to have him in the lodge and all appreciate everything he has done for them – apart from some of his dodgy London ritual that is."
It was at this juncture that Steve asked group chairman David Cook to present Laurie with a certificate issued by the Provincial Grand Master Tony Harrison. In doing so, David also presented Laurie with a much coveted and elitist lapel badge commemorating his milestone in Freemasonry.
Whilst this concluded the more decorous element of the proceedings, the big punch of the evening was yet to come. It gave Laurie an opportunity to confide with the gathered masses. From the moment he began, an air of fascination and esteem descended on the room as Laurie related some of his most unforgettable exploits in his long career in the Metropolitan Police; from encounters with London mobsters that would have seen lesser mortals weaken under the demands, to spine-chilling revulsions of gruesome accidents; from a heart-breaking moment of cradling a dying mother and her dead infant (and Laurie was a mere 17 years old), to lighter times of humour with his bobby colleagues. He was the bee's knees, if that's the right expression, and gained the overwhelming admiration of the assemblage.
To say that his chat caused a sensation amongst the company would be to offer a mere shadow of its full effect. It was stupendous to say the least. Laurie is a quiet and unassuming gent, one that can be readily underrated. But he rose to the occasion, realising his latent talent, if that is the correct term. Not that it matters. The point is that he spoke with passion and zeal; the populace appearing to be intoxicated by his oratory and the sensation of admiration was exhilarating. It was not so much that his gripping stories kept his audience spellbound – although they certainly did – as the fact that Laurie, amongst his other accomplishments, he delivered them with charm and stimulating sincerity. From a purely spectacular standpoint, it left his audience with a warm glow.
The entire evening was a perfect occasion from which to store up happy memories for long winter evenings and look back on with a glint in the eye. It isn't easy to find words to describe these supreme moments but, putting it in a nutshell, the warmth and sense of delight that rippled the nervous system at Laurie's 50 years in Freemasonry celebration is indescribable.