On the occasion of Lathom Abbey Lodge No 6286, 2022 annual installation meeting at Ormskirk Masonic Hall, the lodge was opened by the WM Phil Stansbie and his regular officers, with the exception of grand officer Martin Walsh as tyler.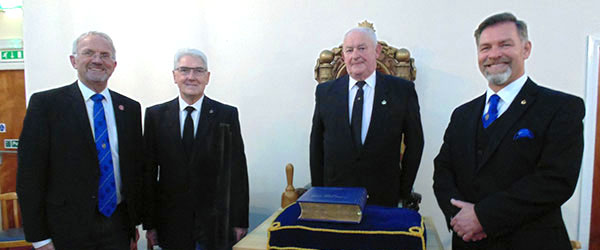 After conducting the general business, Provincial Senior Grand Warden of the Province of West Lancashire Chris Taylor, who was representing the Provincial Grand Master Mark Matthews, was admitted, along with the group vice chairman Derek Midgley. The proclamation of Phil Stanside could then take place.
Phil is very experienced now, with a long history in the chair.  He came to Lathom Abbey Lodge in 2004 from Arrowhead Lodge of Freedom No 8500 (Wigan group) where he was WM in 1978 and remains a member.  A retired college lecturer, he has acted as Lathom Abbey Lodge secretary and as WM in 2017 and 2018, before returning to the chair in 2021, and at the age of 84 (or '70 plus VAT', as he likes to call it), this is no mean feat and reflects his continuing energy and commitment to Freemasonry.
After a short ceremony and proclamation by director of ceremonies Nigel Kent, Chris rose to bring greetings from both the Provincial Grand Master Mark Matthews and the Deputy Provincial Grand Master Phil Gunning. The lodge was then closed and everyone retired to enjoy an excellent and lively festive board.