At the Aughton Lodge No 7996 meeting in November 2022 at Ormskirk Masonic Hall, the brethren conducted an initiation of a new candidate in the presence of the WM Phil Stansbie and seven brethren from Lathom Abbey Lodge No 6286.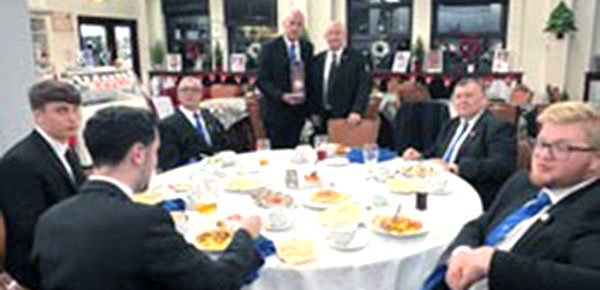 The lodge was opened by Mike Trigg and his regular officers and after the normal business of the lodge was conducted there followed a first-rate ceremony of the initiation of Nigel Wylie to start his journey in Freemasonry.
At the conclusion of the meeting and after the brethren had retired to the festive board, the choice of menu proved to be an excellent one, as nearly all present tucked into a curry with all the usual sides of poppadom's and nan bread.
As is usual in the Ormskirk and Bootle Group, if the WM and six brethren of a visiting lodge are in attendance at a lodge that is in possession of the 'travelling gavel', they can claim the gavel for their own lodge. Consequently, Mike Trigg was obliged to present the gavel to Phil Stansbie of Lathom Abbey Lodge at the festive board.
The response from the visitors was given by the immediate past master of Lathom Abbey Lodge John Mercer, informing those present of the pleasures gained through visiting other lodges, not only in their own group or Province but in other Provinces and abroad, and he hoped the bond between the two lodges would grow stronger than ever.