On a bright and sunny Saturday morning in January, Lancaster Group officers, along with Gary Rogerson, met with John Topping at Rowley Court. The meeting was to prepare for Provincial Grand Lodge which will take place on Monday 9 May 2022 at Blackpool Winter Gardens with Lancaster as the host group.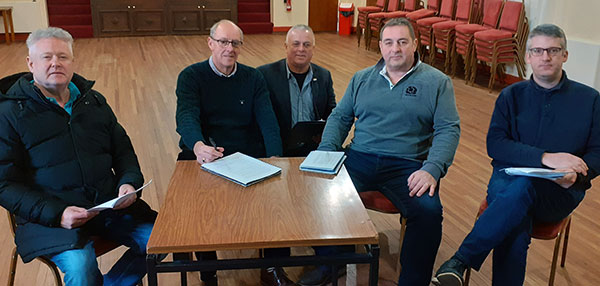 John Topping had been asked by the Provincial office to provide assistance and guidance to the Lancaster Group based on his experience as captain of stewards at the 2019 Provincial Grand Lodge meeting at Winter Gardens, then hosted by the South Fylde Group and, more recently, as vice-captain of stewards at the October 2021 meeting hosted by the North Fylde Group.
In preparation for both of these events, John had developed a detailed presentation for stewards, along with post-meeting feedback that enables a host group to gain a speedy understanding of the many organisational and logistical issues that host group stewards are likely to experience on the day of the Provincial meeting.  John shared with Lancaster group officers all his images, floor plans and layouts of attendee registration procedures, key locations and steward comments from the two previous Provincial meetings; deploying a visual PowerPoint presentation.
John will also be working at all future Blackpool Winter Gardens Provincial meetings, including Provincial Grand Chapter, supporting the host group as the operational liaison between Winter Gardens staff and group stewards; also providing support for Provincial office staff during the day of each of the meetings.
Graham Dowling will be the 2022 captain of stewards for the Lancaster Group and he said: "Following this briefing session we are now looking to recruit up to 50 stewards from our group which will enable us to make this year's Provincial Grand Lodge a great success. I want to appeal directly to our brethren of all ranks in the Lancaster Group to consider volunteering; thereby ensuring we have a successful event in these challenging times."
Assistant Provincial Grand Master Peter Schofield said: "It is a great honour for the Lancaster and District Group of lodges and chapters to be invited to host the meeting of Provincial Grand Lodge on Monday 9 May 2022. It affords us all the opportunity to support our Provincial Grand Master, the Province of West Lancashire and all the brethren from our group and across the Province who will be receiving appointments and promotions on the day, particularly when you consider that the Lancaster and District Group is the home of our Provincial Grand Master. I feel sure the brethren of the group, if they are able, will support Graham Dowling and the team by volunteering to be stewards for the day and help make this event a great success and a wonderfully memorable occasion for all."
For more information and to register your interest in serving as a group steward at Provincial Grand Lodge, please contact Graham Dowling, Captain of Stewards for the 2022 Provincial Grand Lodge at ghdowling@btinternet.com