Lancaster and District Group Chairman Neil McGill, together with Poulton le Sands Lodge No 1051 secretary Mike Craddock, took a trip to Preston and District RSPCA centre to present them with a cheque.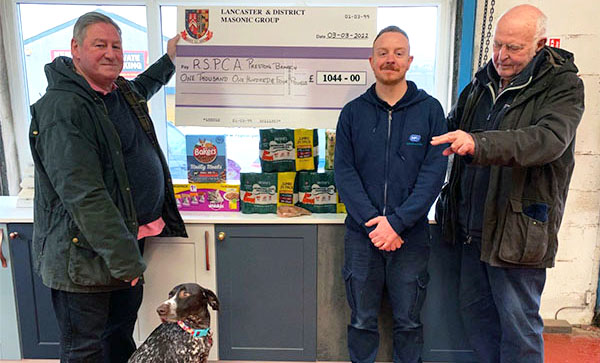 Neil and Mike were very pleased to present a cheque for the very generous amount of £1,044, which had been raised during the appeal, plus a supply of dog food to Graham Godkin, an animal care assistant from Preston and District RSPCA.
Graham said that he was very grateful for the generous donation from the Freemasons of the Lancaster and District Group, as it would go a long way in helping them to continue with their work in caring for animals in need of attention.
Mike Craddock coordinated the appeal on behalf of all the lodges in the Lancaster Group. During the appeal, as the supply of dog food increased, it was identified that somewhere to store it was required. In stepped Gareth Harrison, a member of Poulton le Sands Lodge, who very kindly agreed to store the supply of dog food at his business premises on White Lund Industrial Estate in Morecambe.
The RSPCA Preston and District Branch is a self-funding independent charity and is always grateful for public donations and the generosity of the community. Their mission is to provide safe homes to abandoned, neglected or abused animals, to nurse them back to health, rehabilitate them, and find them their forever home. They also provide welfare assistance to pet owners who cannot afford treatment for their own animals via a veterinary clinic on Lancaster Road in Preston.