In early November, Provincial Grand Master Tony Harrison launched the Province of West Lancashire Freemasons' Food Bank Support Appeal. Each group has been requested to appoint a group coordinator in support of the appeal for the donation, collection and storage of non-perishable food, toiletries, and other essential products, in addition to Christmas gifts for children. The collection is taking place over a three-week period throughout November. Donations will be presented to the local foodbanks during the weekend of 12 December.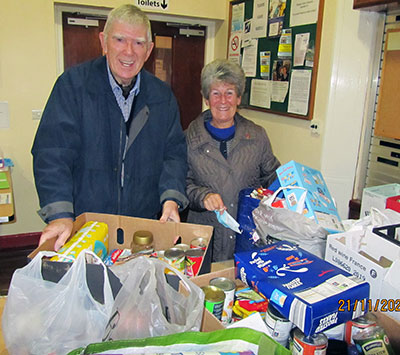 What do we need to do?
Brethren have been asked to donate one item a day for the 30 days of November, using a list of required items supplied by local foodbanks. If all 8,000 members donated 30 items, the Province would donate almost 250,000 items across West Lancashire. West Lancashire Freemasons' Charity generously pledged £5,000 to the appeal, each group receiving £250
Why do it?
Because brethren across the Province have expressed a wish to 'do something' to maintain that distinguishing characteristic of a Freemason's heart throughout the pandemic. There have been many successful initiatives run by committed volunteers to date. The Food Bank Support Appeal is a further opportunity for brethren to safely contribute to their local community.
Foodbanks are in high demand and this demand always increases at this time of year; a demand that is likely to be exacerbated by the additional hardship caused by the pandemic. Foodbanks are almost exclusively run by volunteers and as such, time is often their most valuable commodity.
Who is the Lancaster Group's admin coordinator?
Mike Craddock from Poulton le Sands Lodge No 1051 has been appointed to coordinate the Lancaster and District Group's Food Bank Support Appeal by group chairman Neil McGill.
Where should donations be delivered?
Storage of donations for the group will be at Rowley Court Masonic Hall. Each lodge in the group has been requested to appoint a coordinator to receive e-mails or telephone calls from brethren wishing to contribute items for the foodbank, which will then be collected and taken to Rowley Court. A representative of each lodge will be invited to join PrGM Tony Harrison to attend the hand over presentation to the Lancaster foodbank manager.
Financial donations to the foodbank appeal are acceptable, although food donations are preferred. All cash/cheque or BACS donations will be banked by our Lancaster Group Treasurer.
What items does the Lancaster Foodbank need?
The Lancaster Foodbank have specially requested the donation of tinned meats; vegetables; chilli; curries; Fray Bentos tinned pies; coffee; tea bags; dried mashed potatoes; rice; pasta; Christmas puddings and toiletries.
When should lodge coordinators drop off donations?
Lodge coordinators have been requested to drop off donations to Rowley Court between 10:30am to 12:30pm on Saturday 28 November and Saturday 5 December.
First donations have already been received!
The first lot of donations were received on 21 November. Neil McGill was ably assisted by John Heaton, Alan Physic, Mike Ashton, Steve Plevey, Scott Devine, Geoff Bury, Dave Shaw and Stephen Fox who sorted over 1,000 items getting them ready for delivery to foodbanks.