Past master Larry Branyan from Lancaster Castle Lodge No 5952 was elected Mayor of Carnforth on 6 May 2021 and will lead the Town Council at a critical time as COVID-19 restrictions begin to be lifted.
As the Mayor, Larry will continue to work collaboratively with community groups, Lancaster City and Lancashire County Councils and the council's partners to deliver the best possible services and outcomes for Carnforth.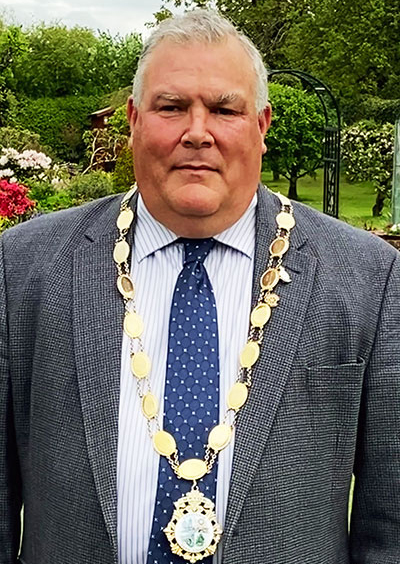 Larry has been on the Town Council since June 2015. He is a member of the Finance and Governance Committee and was Chair of the Asset Management from 2019 until his election as Town Mayor.
Larry was born in New York, USA, later becoming a British citizen. He served as a Commissioned Officer in the Royal Navy and Royal Naval Reserves for 26 years as a Mine Warfare and Diving Officer, before retraining as a Communication and Information Systems Specialist. Larry was awarded the Reserve Decoration in 2002.
Since retirement from the Royal Navy, Larry has been Managing Director of a web design and database development company specialising in small business and equestrian work. He has lived in Lancashire since 1998 and shares a house with his former mother-in-law Mavis and their dog Rocco in Capernwray.
Larry was WM of Lancaster Castle Lodge in 2016 and is a past master of Clocktower Lodge No 7711 in Bisley, Surrey. He was promoted to Past Provincial Grand Standard Bearer (Surrey) in 2017. Larry is also a companion in Sandylands Chapter No 5702 in Morecambe and is a member of another Masonic Order.
Larry has been a member of Carnforth Rotary Club since 2006 where he was President in 2011-2012 and latterly elected to serve as Rotary District Governor for Cumbria and Lancashire in 2017-2018.
Being the Town Mayor at this critical time for the town, Larry is looking forward to leading the Town Council in support of the lifting of COVID-19 restrictions and re-opening of local shops, hotels, pubs and restaurants to get back to some form of normality!