Companions of City Chapter No 2514 have had a wonderful Masonic season, having celebrated their centenary year. Companions and visitors assembled at The Adelphi Britannia Hotel, Liverpool, to commemorate another landmark occasion with the celebration of 50 years of continuous service in Royal Arch Masonry for first principal David Codling.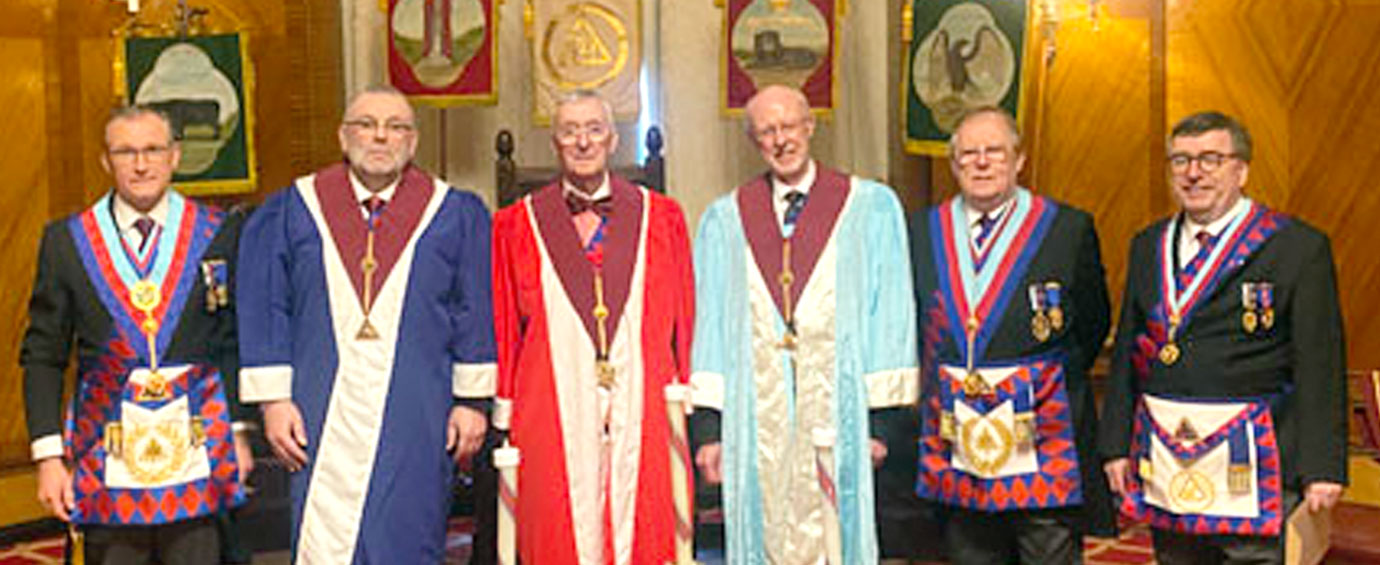 The chapter was called to order by director of ceremonies Roy Hedges and first principal David welcomed all to the chapter. The chapter was opened in solemn form by David, assisted by second principal Stephen Riley, who was standing in for Ian Barton who unfortunately couldn't attend. Third principal David Edge made up the impressive team who performed the opening ritual with ease.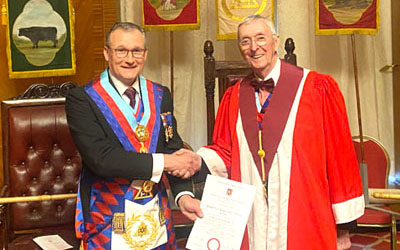 Ballots were then held for honorary memberships to be bestowed on Paul Renton and Tom Arnold, which were unanimously passed and loudly applauded. The chapter then proceeded to hold a further ballot for two joining members, Ritchie Thomas and Gordon Sanford, of Linlithgow Chapter No 5, Scotland, who again were unanimously passed and welcomed into the chapter.
Assistant to the Provincial Grand Director of Ceremonies David Boyes entered the chapter and announced that Assistant to the Provincial Grand Principals Ian Sanderson and distinguished guests stood without. David announced that the chapter would be delighted to receive him and a procession was formed consisting of director and assistant director of ceremonies, Roy and Derek Hedges, Ian Sanderson, who was accompanied by Assistant to the Provincial Grand Principals Colin Rowlands, Derek Parkinson, Gladstone Group Treasurer, Paul McLachlan. David Boyes introduced the principal guest Ian Sanderson to David Codling, who warmly welcomed Ian to the chapter.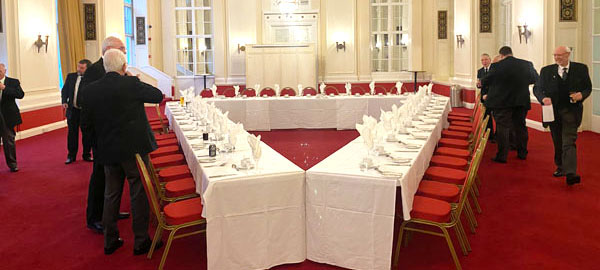 Having seated all guests, it was soon time for Ian to rise and request that David Codling remain seated and to ask all present to join in the celebration of the occasion of 50 years of Royal Arch Masonry for first principal David. Having requested that the janitor Neil Griffiths be brought into the convocation, Ian began a wonderful speech.
Ian explained that it was an extremely enjoyable occasion to be part of such celebrations, particularly for a golden jubilee, and he remarked that with over 40 companions in attendance, it was a measure of the love, esteem, respect and admiration all had for David.
David was born in 1942 in Neston, Wirral, the family having temporarily relocated from Wallasey to escape bombing raids during the war. Educated in Wallasey, David was a reluctant student, however he did discover a love of technical drawing and entertained thoughts of becoming a draughtsman. However, at a stay with friends in Manchester, found a calling at the News Chronicle and he became an apprentice compositor, eventually completing his apprenticeship at The Daily Post.
At around the same time, David had joined the 273 (Wallasey) Squadron Air Training Corps, and progressed through the ranks to sergeant, having gained his glider pilot licence along the way, David was active in coaching the squadron shooting team, taking the cadets to Bisley to compete at top-level with other teams from the UK.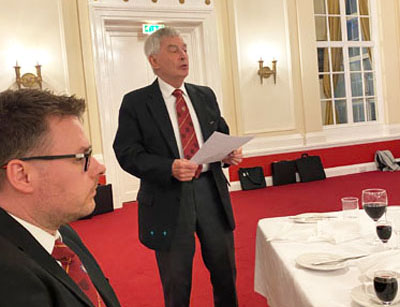 David was initiated into Masonry in Elleray Park Lodge No 5620, Cheshire, in 1967, and was subsequently exalted into Royal Arch Masonry in City Chapter at the Adelphi Hotel in January of 1973. David became first principal of City Chapter for the first time in 1981, and in recognition of his hard work and esteem, became first principal again in 2022 in order to celebrate the centenary of this wonderful chapter.
David has held many offices in City Chapter over the years, most recently director of ceremonies, and was appointed Past Provincial Grand Scribe Nehemiah, the highest rank that can be awarded by the Grand Superintendent.
David has subsequently joined Linlithgow Chapter No 5 in the Supreme Grand Chapter of Scotland, and was particularly pleased that two members were in attendance and have joined City Chapter as well.
On a personal note, Ian explained that David is a keen caravanner, taking many trips all over the United Kingdom and France, and since retirement enjoys spending time at a static caravan in Knutsford with his wife Sheila. David and Sheila enjoy travelling abroad, and have developed a taste for cruising, having so far explored the Canaries, St Petersburg and the Baltic states.
Ian congratulated David on reaching this impressive milestone and called upon the Gladstone Group Representative Paul McLachlan to read an anniversary certificate to David. This was presented to David by Ian, and the chapter applauded David in congratulations of his golden jubilee.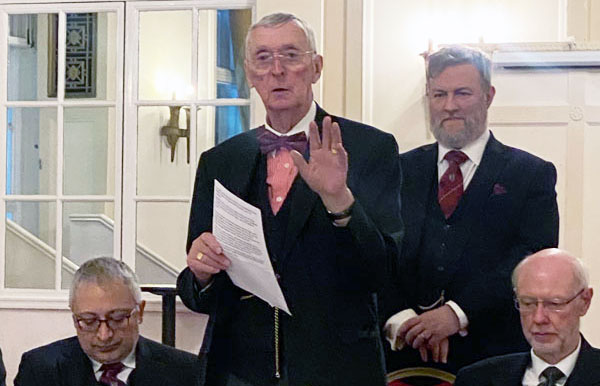 David thanked Ian for his very kind words, and all of the companions for joining him in his golden jubilee celebration. He also explained that the Grand Superintendent Mark Matthews had telephoned him to congratulate him, and that he was delighted that Mark had taken the time out of his busy schedule to call. David then presented a cheque to Ian for £200 to be donated to the West Lancashire Freemasons' Charity.
The chapter business was then concluded and the chapter was closed in fine form by the three principals with all invited to retire to the fine dining room of the Empire Suite. The festive board table was arranged in the shape of a large triangle, and made for an impressive dining experience with all of the companions arranged around the equilateral dining table. The festive board was a lively affair, with conversation from all sides of the dining table, it was soon the turn of treasurer David Withy to propose a toast to the health of David Codling.
David Withy presented a wonderful speech, explaining to all present that he was exalted into city chapter in 1979, and that he had been welcomed, helped and guided by the tutelage of David Codling, and they had become firm friends. David explained that David Codling's uncle, Ron Codling, had been instrumental in the delivery and upholding the reputation of excellent delivery of ritual within the chapter, a tradition which has been superbly upheld by David. Indeed, following a recent visit from Past Deputy Grand Superintendent Paul Renton, he had remarked that he would have like to have 'bottled the ceremony'. The chapter is extremely proud to have been recognised by the appointment of no less than seven Provincial stewards.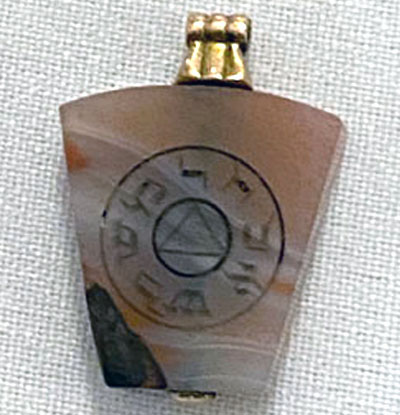 David also praised David Codling for the recent donation of new chapter banners which were resplendent in the chapter room, and went on to say that David is an enthusiastic and generous Freemason who has served the chapter with distinction. The companions toasted the health of David with spontaneous applause.
In return to the toast to his health, David Codling rose and thanked David Withy for his fine speech. He said that he was particularly pleased to be able to donate the new banners as a fitting tribute to the recent chapter centenary. He thanked Vic Charlesworth for his invaluable assistance in procuring the banners. David mentioned that a friend had made embroidered labels for each banner with the chapter name and number, and having a few left over was particularly pleased that he was now the proud owner of a pair of unique pyjamas with the chapter name and number embroidered upon them!
David was very warmly applauded at the conclusion of his speech and was asked to remain standing whilst the chapter presented David with a gift in celebration of his golden jubilee. The chapter presented David with an antique agate 9ct gold Royal Arch Masonic keystone, which David explained that he will wear with pride on his pocket watch fob, he thanked the chapter for the fine gift.
As with all celebrations they must unfortunately come to an end, and with the janitor's toast, the companions and guests bid adieu and left with warm memories of a very special celebration.