Past Assistant Provincial Grand Master Kevin Poynton was installed in the chair of Lathom Lodge No 2229 by David Boyes, 236 years after HRH Albert Edward Prince of Wales, Grand Master of the United Grand Lodge of England granted a charter in September 1887 forming Lathom Lodge. With the first WM being the Earl of Lathom Deputy Grand Master and Provincial Grand Master for Lancashire.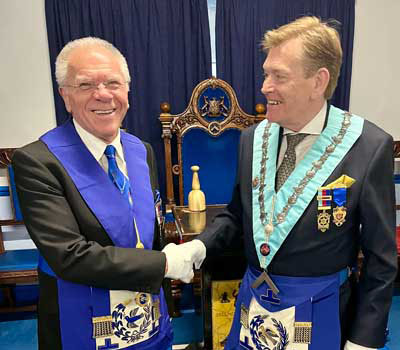 Gordon Beckett opened the lodge and after greeting the principal guest, Past Assistant Provincial Grand Master Derek Parkinson, who was accompanied by Ormskirk and Bootle Group Chairman Graham Chambers, Gordon asked the DC David Boyes to assist him and take the chair in order to install Kevin.
Mark Holloway presented Kevin to David who then installed him into the chair of King Solomon in a very sincere manner. David also delivered the address to the master. One of Kevin's best friends, Sam Robinson a visitor to Lathom Lodge, delivered the address to the wardens and Derek Parkinson delivered the address to the brethren of the lodge.
After the meeting, 40 brethren retied to enjoyed the festive board. Kevin has a reputation throughout the Province for his sense of humour and despite the news he received earlier this year that he had prostate cancer that has sadly spread to other areas, during his response to the toast to his health he had the brethren in fits of laughter as he described some of the side effects that his treatment is having on him.
On a more serious note, Kevin thanked all the visitors for attending the meeting of what he described as a fine old lodge and one that Kevin said was formed to enable the Provincial Grand Master to talk to the members of the lodge, who were all grand or Provincial grand officers so that they could pass on the Provincial Grand Masters messages when they attended meetings throughout the Province.

He continued by saying: "The need for this verbal form of messaging declined some 22 years after the lodge was formed, due to the development of email, websites and other social media, and the membership of the lodge fell from over 300 to 35 last year".
At this point Kevin thanked Mark Holloway for his promotion of the lodge as the only past masters lodge in the Ormskirk and Bootle Group, which has resulted in 3 joining member in January, 10 joining members being proposed at the installation meeting and with other brethren interested in joining, Lathom Lodge is going to grow with more than 50 members by the end of the year as it has added an extra meeting in January each year to be held Ormskirk Masonic Hall.