Deputy Provincial Grand Master Philip Gunning returned to his mother lodge to lead the celebrations for Ken Croft who has achieved 50 years in Masonry.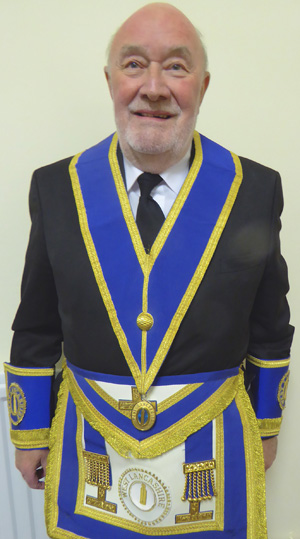 WM Andrew Whittle opened the lodge in the usual manner and the minutes of the last regular meeting were confirmed and signed. Alan Ledger was elected as master elect for the ensuing year, with Dave Dutton being re-elected as treasurer and Brian Jones as tyler.
The Provincial Deputy Grand Director of Ceremonies Barry Fitzgerald was admitted and announced that the DPrGM stood outside and demanded admission. Philip was accompanied by Kevin Poynton and other grand and acting Provincial grand officers. The WM warmly welcomed Philip and then offered him the gavel, to which Philip replied that he was delighted to be present and that it was 33 years since he was master, but he would accept the gavel, so would the WM please move!! Salutations were then given to Philip.
Philip informed the brethren of the purpose of the meeting and asked that the celebrant Ken Croft be placed before him and then proceeded to take us back to the year 1937, the year Ken was born, a year in which the storm clouds were gathering over Europe and the German war machine was getting into gear. It was a year that would see the Spanish Civil War continue to blight the Iberian Peninsula and 36 people would lose their lives when the Hindenburg burst into flames during an ill-fated attempt at mooring at Manchester, New Jersey. Franklin Delano Roosevelt would enter a second term as President of the USA and in the UK Neville Chamberlain would succeed Stanley Baldwin as PM. Frank Whittle would test the first jet engine for aircraft and the Hawker Hurricane would enter service in the RAF. Edward V111 would abdicate the throne and marry Wallis Simpson, succeeded by his brother George V1, Past Grand Master. 1937 was also the year of birth of Shirley Bassey, Barbara Windsor, Bobby Charlton and Gordon Banks.
All these events would pale into insignificance when, on 17 December William and Rosella Croft would announce the arrival of their son Kenneth Wallace Croft, one of four children; Leslie (elder brother), Alan (younger brother) and Joan (younger sister).
Liverpool was the second most bombed city in Britain, with 4,000 killed or injured and 90,000 homes destroyed or damaged, with 75,000 left homeless. The Blitz reached its height in May 1941 and shortly afterwards the city was visited by Winston Churchill who movingly said: "I see the damage done by the enemy attacks, but I also see the spirit of an unconquered people." Just about sums it up. A little known fact is that the Luftwaffe started their bombing run for Liverpool over Dublin which was never blacked out during the war, so the lights could identify the city and with Liverpool only 90 miles away it could be done on dead reckoning.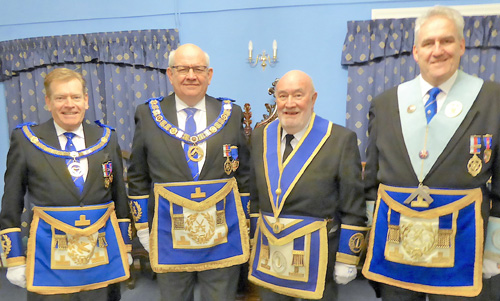 Despite living through the war years in close proximity to Liverpool, Ken was not evacuated. He went to school at West Derby Infants, followed by Aigburth Primary School, then Liverpool Collegiate Grammar School and finally Old Swan Technical Engineering. He became a member of both the Scouts and the Boys Brigade, which Philip said in his day was unusual because there was always rivalry between the two. However, both organisations offered valuable life skills to all youngsters.
Having left school, Ken served a five-year apprenticeship at Wingrove and Rogers Engineering. Ken was however struck by the lure of the sea and joined the T J Harrison Line, becoming an apprentice marine engineering officer and spent most of his time on the MV Administrator, sailing predominantly to both West and East Africa.
He spent four happy years at sea and during that time he met Sylvia at Billy Martins Dance School and so, with impending marriage, he chose the shore over the sea and on 20 February 1960 he and Sylvia were married. Their marriage was blessed with two daughters Shirley and Michelle and they now have three grandchildren. Having left the sea, Ken went to work for Chadburns in Liverpool who made the ships telegraphs and stayed for four years. Work wise he always had itchy feet, or was it dancing feet, because he had a variety of jobs working in the engineering industry, up until his retirement.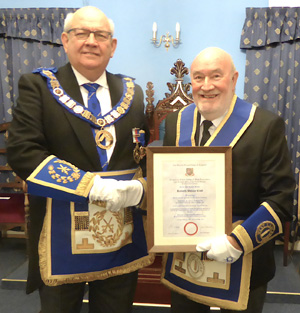 Ken and Sylvia were accomplished ballroom dancers and attended the Billy Martin School of Dance and the Dorothy Prior School of Dance in their early years. They entered many competitions and often came away as winners. Team formation dancing was another skill that they mastered and enjoyed and Ken appeared on the television in one of the most popular programmes of the day – Come Dancing, which was hosted by Victor Sylvester.
Ken spent his working life as an engineer, but when he wasn't working or dancing, he was buying and renovating the homes in which he lived. Ken has moved house a staggering 13 times, each move being better and bigger than the last. Philip said that he has fond memories of Holly Bush Cottage on the A49, it was a beautiful thatched cottage and listed Grade 2. It was simply stunning and considering that Ken had done all the work himself it is simply amazing.
Turning now to Ken's Masonic life, Philip said that Ken was initiated into Anfield Lodge No 2215 on 17 October 1968 and installed as master in November 1977. In the lodge he has held numerous offices, including DC (he handed over to Philip Gunning), chaplain and secretary. Ken also created the lodge 'Centenary Plate', an example of which can been seen in the lodge warrant holder and is responsible for producing three versions of the Anfield Lodge ritual book. He has also been the WM of Academy Lodge No 9382 on two occasions 2010-11 and 2017-18. Ken received Provincial rank in 1988 to PPrSGD and 1996 PPrJGW.
Ken was exalted into the Royal Arch in Gilbert Greenhall Chapter No1250 on 3 December 1985 and was also a member of Neptune Chapter No 1264.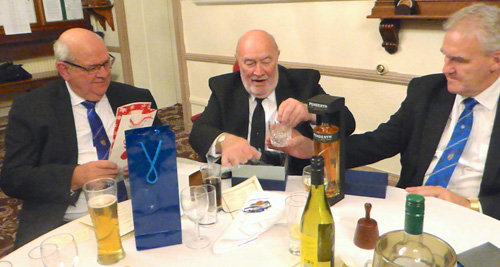 Concluding his remarks Philip said:" Ken, to me you always have and always will, be a fundamental part of Anfield Lodge, you yourself have walked among giants and are one of them – Madryn Hughes, Ken Herbert, Arthur Martin, Stan Tinker, Stan Gill, Redfers Beattie, Frank McNaughton, Charlie Rosenberg, and not forgetting your own brother Les. To many those are just names on the summons, but to us they are much, much more and made Anfield the Lodge what it is today. Being DPrGM, I am not really supposed to do 50th celebrations of brethren who have not held senior rank, but to be honest Ken, I wasn't going to sit back and let anyone else do yours. It really has been a delight and a privilege – God bless my friend."
The group chairman Andrew Whittle was asked to read the certificate, which Philip then had great pleasure in presenting to Ken, after which the WM was requested to reoccupy the chair.
After a collection for alms had been taken the PrDGDC formed the procession to retire and Ken was escorted by Philip as they retired from the lodge in order to make their way to the dining room, where the celebrations could continue.
WM Andrew Whittle proposed the toast to the DPrGM who responded by thanking all the acting officers and Barry Fitzgerald for being present saying that it was good to be back in his mother lodge and to be able to conduct Kens golden jubilee.
Eric Carroll proposed the toast to the celebrant and presented to him a bottle of libation with two inscribed drinking glasses. A special cake had been prepared which was shared with all present. During the evening a raffle for held for Masonic charities raised the sum of £180.
After such a fantastic evening the tyler Brian Jones was called upon for the final toast which brought the proceedings to a close.
Story and pictures by Colin Roberts.