Garston Masonic Hall was the venue for the installation of Kenneth (Ken) Bradley as WM of the Lodge of Harmony No 220 who had previously been installed 33 years ago. The WM Kendal Wagner opened the lodge and completed the domestic business before the director of ceremonies Geoffrey Ireland retired from the lodge.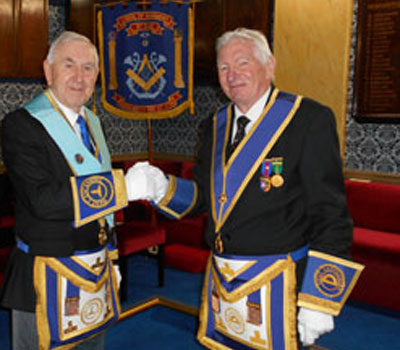 The DC was readmitted to the lodge and announced that Stewart Cranage, the representative of the Deputy Provincial Grand Master in Charge Philip Gunning, requested admittance. Accompanying Stewart was the Vice Chairman of Mersey Valley Group John Gibbon along with other distinguished Masons. The WM announced that the lodge would be pleased to admit them.
Kendal then proceeded with the installation ceremony for Ken, who was ably assisted by Geoff Bush who delivered the working tools in all three degrees. The address to the newly installed WM was excellently delivered by Peter Bush. The address to the stewards, who had this year been initiated into the lodge, was given by Mick Southern Provincial Grand Steward, who explained their duties in detail.
Ken appointed Harry Hodson as almoner and mentioned the work that Harry and his wife have done with Chernobyl Children's Lifeline and Helping Hand for Ukraine with the support, they had given with this organisation hosting children.
Stewart delivered the address to the brethren and went on congratulate everyone who had been involved in a textbook installation which he enjoyed and pleased to see a full lodge room. The WM presented Stewart with the donations which would be electronically sent after the meeting by the secretary; one for £220 for West Lancashire Freemason's Charity and another for £220 for Garston Masonic Hall for the upkeep of the building.
At the close of the lodge, the brethren retired from the lodge for a drink's reception and afterwards to the well supported festive board. Stewart, in response to the toast to his health, expressed that he had a wonderful evening at a lodge with great banter and loyalty and how he had enjoyed a great ceremony.
In January, the lodge will be celebrating its bicentenary which is being well planned, raising funds for number of charities, and this year the lodge had three new initiates. Stewart reported that the digital recruitment campaign started by United Grand Lodge of England was doing well after emerging from COVID.
Ken thanked the lodge for electing him as WM to preside over the bicentenary, 33 years after last being WM and said that he will not let them down.